These spicy lamb kebabs recipe is made with minced lamb and flavorful spices. It makes a great appetizer or side dish. It's easy, can be made under 30 minutes and is a wonderful idea for kid's lunch boxes.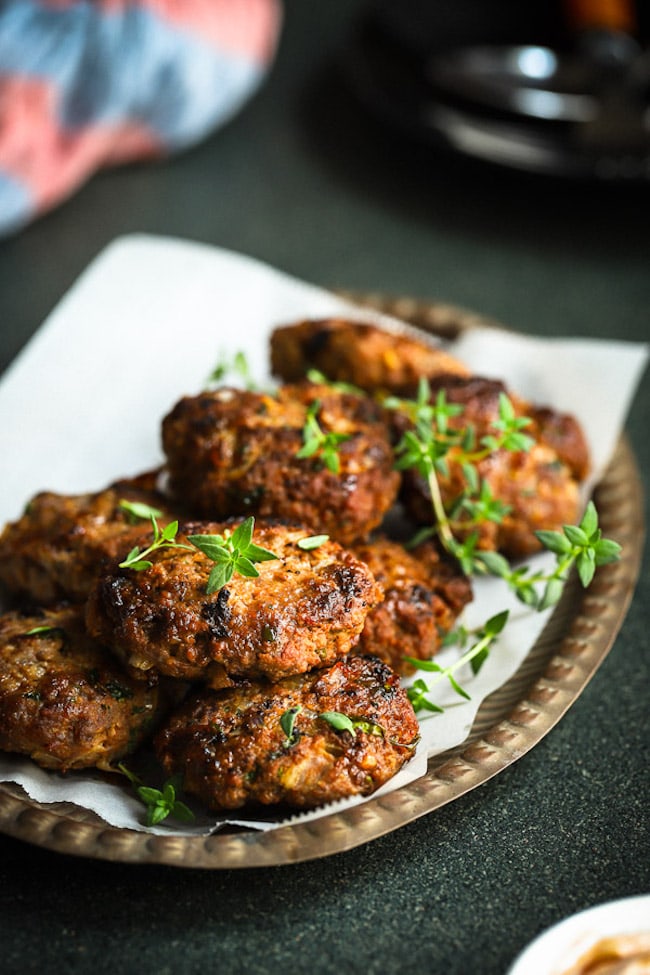 Yummy! Let's be honest, this is the first word that popped into your mind by the mere thought of these delicious kebabs.
Let's not wait to tempt your family with this wonderful recipe that promises to take you on a journey of incredible flavors and unique taste.
There is no doubt that you can easily find a number of lamb mince recipes. However, this recipe utilizes a simple seasoning mixture. Even amateurs can try a hand at this foolproof recipe and get great results.
If you looking for similar recipes try oven-baked crispy buffalo wings or crispy chicken wings. A total crowd-pleaser.
Green chicken kebabs and chicken meatball kebabs are also quick and easy recipes for a get-together or for a busy weeknight.
These Indian style lamb kebabs or patties are something that must not be missed especially when you are looking for a perfect lamb recipe. It is also perfect for Easter or Christmas celebrations.
Essential elements of these kebabs
Lamb is not a popularly consumed meat, owing to its high-fat content and strong taste. Therefore, the seasoning of lamb is of the utmost importance. Garlic is an essential part of this seasoning which helps to balance the intense flavor of the meat. You can either use freshly chopped garlic or garlic powder.
Minced meat is a bit tricky to use. You have to pat dry minced lamb with a kitchen towel to remove as much moisture as possible. However, make sure not to press too hard as it will squeeze out all the moisture, leaving the mince quite dry.
All the flavor-packed seasonings boost the taste of these kebabs. However, it is actually the breadcrumbs and cornstarch that brings the entire dish together.
Both breadcrumbs and cornstarch serve as a binder that prevents the kebab from falling apart.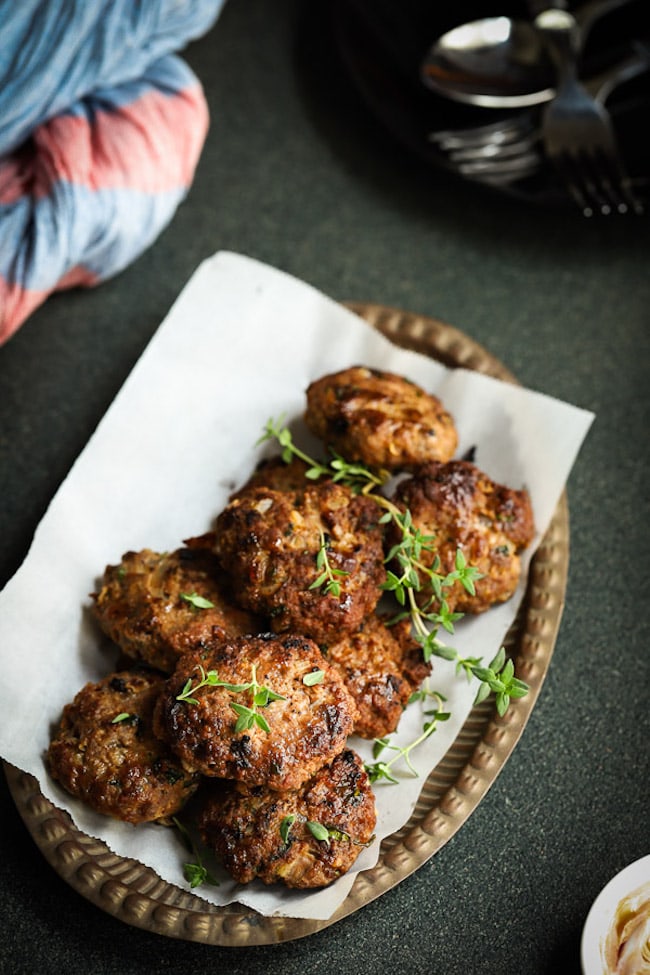 Serve these spicy lamb kebabs with either green chutney, spicy mayo or yogurt dip. A great idea would be to make a special yogurt dip with mint and cumin.
You can also serve this inside a bun as a lamb burger. Fill with veggies, cheese, spicy mayo and watch your loved ones shout out in delight.
Enjoy these flavor-packed patties and rest assured you will be a fan of this finger-licking food.
P.S: This Weeks blogging tips
If you are looking for a single place to find all the answers to blogging and growing your blog,  Sign up for Food Blogger Pro. If you are serious about making a career out of blogging this is the place where you will find all the answers. They also have a 60-day money-back guarantee.
Food blogger pro has tons of tutorials and easy to understand quick videos from monetizing your blog, shooting a Food video to Editing using different software.
Their membership forum is also very useful whenever you come accross any issues.
P.s: The above-mentioned link is an affiliate, which means I get a commission if you sign up for Food Blogger Pro. The views expressed are my own and I have been a member of FBP for the past two years.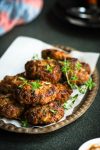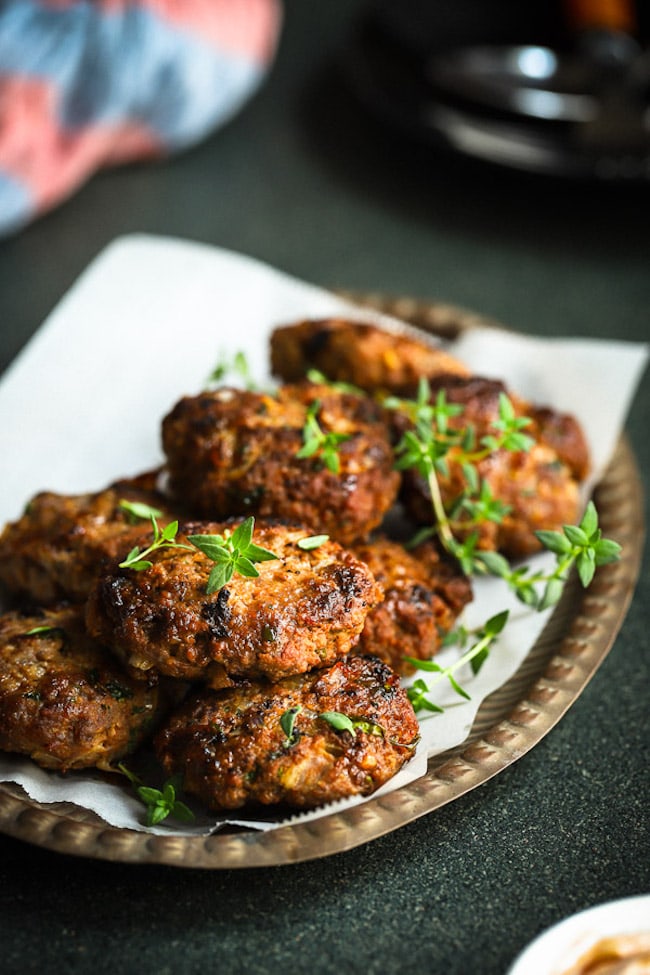 Spicy Lamb Kebabs
Ingredients
1/2

kg

(1 pound) minced lamb

1/2

cup

onion, finely chopped

1/4

cup

coriander/cilantro, finely chopped

2

teaspoons

paprika

2

teaspoons

garlic powder

1

teaspoon

pepper powder

1/2

teaspoon

salt or to taste

3

teaspoons

lemon juice

1

teaspoon

corn starch

1/4

cup

bread crumbs
Instructions
Add the lamb to a mixing bowl. Pat with a kitchen towel to remove liquid if any.

Add onion + cilantro + paprika + garlic powder + pepper powder + salt + lemon juice and mix like you are kneading the dough.

Add cornstarch + bread crumbs and mix well again. Place a skillet over medium-high heat and brush generously with some oil.

Take a small portion of the lamb mixture and slightly flatten. Place it on the skillet and cook for about a minute on each side or till the inside is cooked. Taste and adjust the flavor in the remaining mixture if needed.

Divide the mixture into 15 portions, then roll it and slightly flatten it like a patty. Place these in the skillet and cook for about 2 minutes on each side or till the inside is cooked and the outside is slightly charred.

Serve this with green chutney, spicy mayo or any yogurt based dip.
Recipe Notes
Garlic powder is a wonderful spice to have in the pantry. It gives a nice flavor to any dish but if you don't have it handy, fry about two cloves of chopped garlic in a tiny bit of oil and add it to the minced lamb.