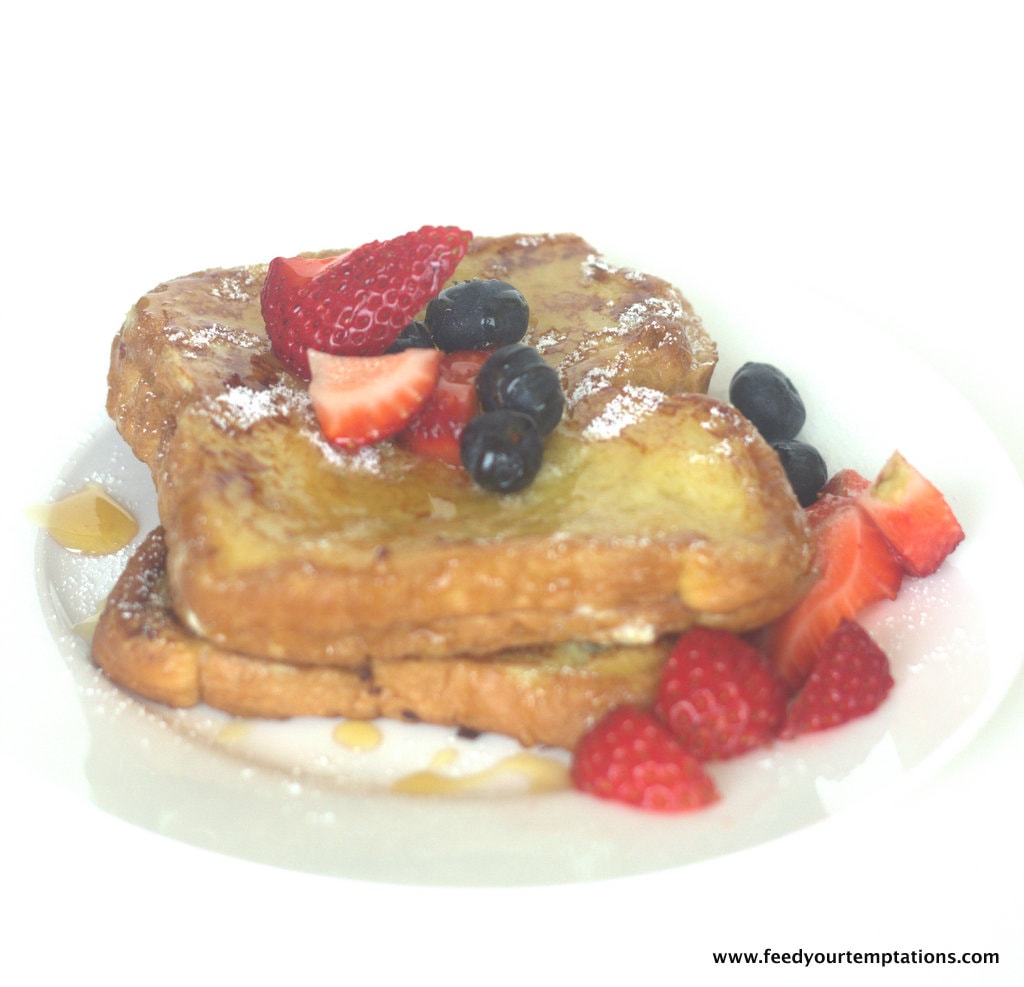 Very rarely you find a recipe with 5 star ratings and all positive reviews. Recently I found one too. Its was the recipe for ultimate French toast by Alton Brown on Food Network. I have had this at the best breakfast places until I finally stopped ordering it. I like a sweet custard base and honey gives this the perfect sweetness. The sweetness in the custard helps the toast caramelize and gives it a beautiful color and  thus you don't have to dump the toast with lot of powdered sugar and extra syrups.  There is something about honey which you cannot get substituting with sugar. Have you tried making the restaurant style curries and tried adding honey. It tastes so good and  gives it a professional taste.
This is not a simple toast. Its a sandwich toast. Apply your favorite spread on the bread, cover with another slice, dip it in custard and fry. Viola! 2 goodness in one. You cannot beat that. In France, its also called the lost bread, which was a way of using old bread. The type of bread used makes a difference. Try using Challah, brioche, french bread or anything with a slightly firm texture. But if you don't have it, go ahead and use the one you have handy.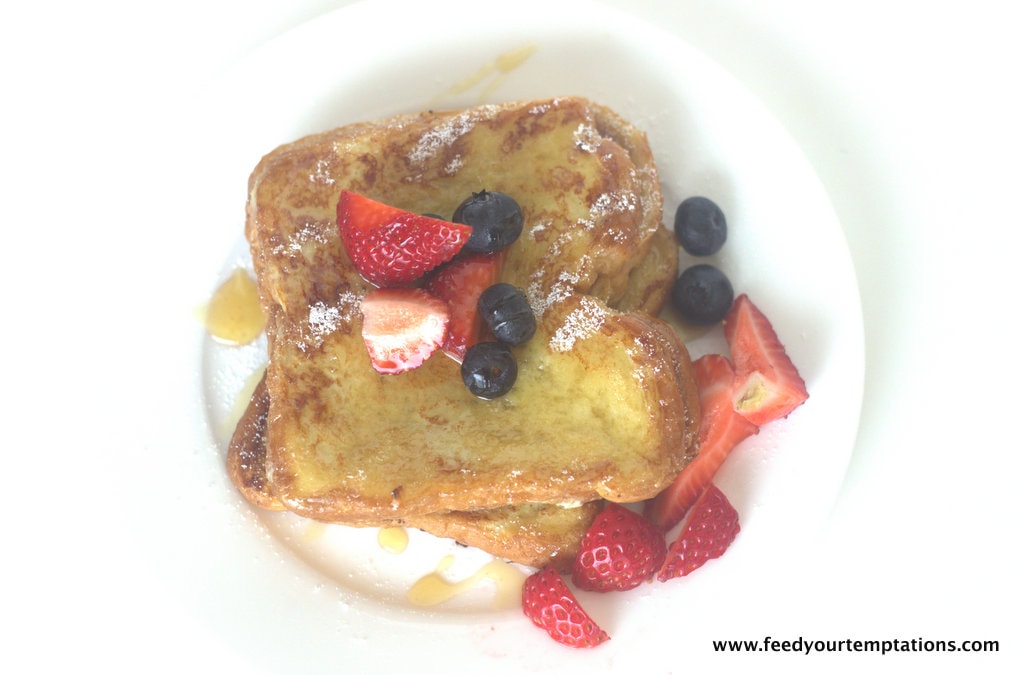 Top it up with your favorite berries, drizzle with honey or maple syrup. Actually, for this recipe you don't have too, because it already has the needed sweetness. But sure a drizzle of honey makes it more appetizing.  Do you know what else goes well? A pinch of cinnamon.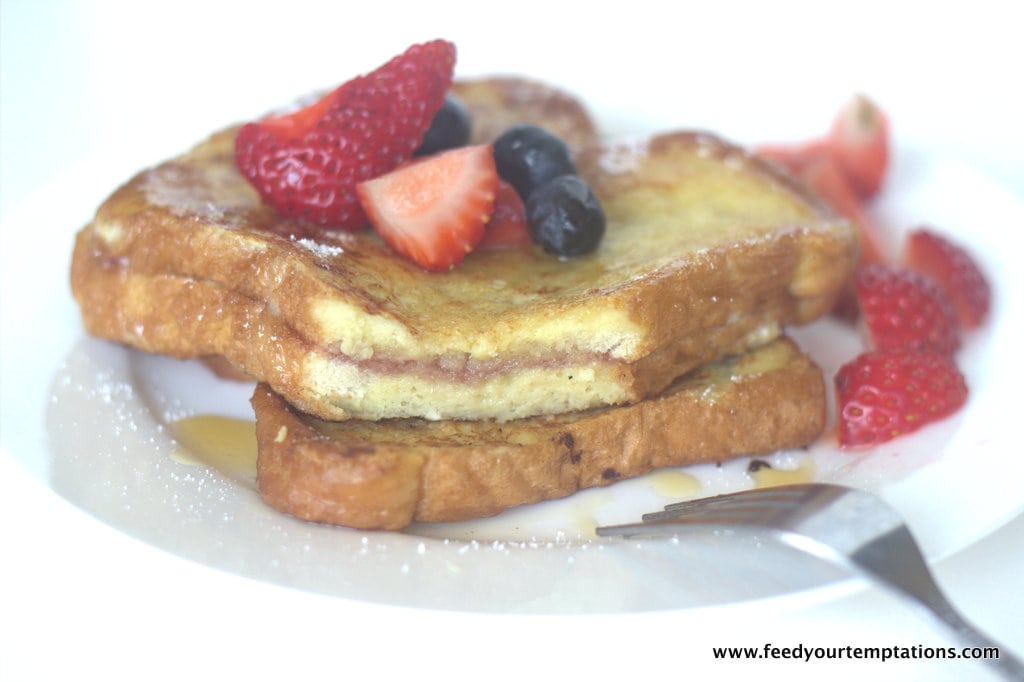 Fill your bread with nutella, peanut butter, bananas, spread, marmalade to make the French toast even better.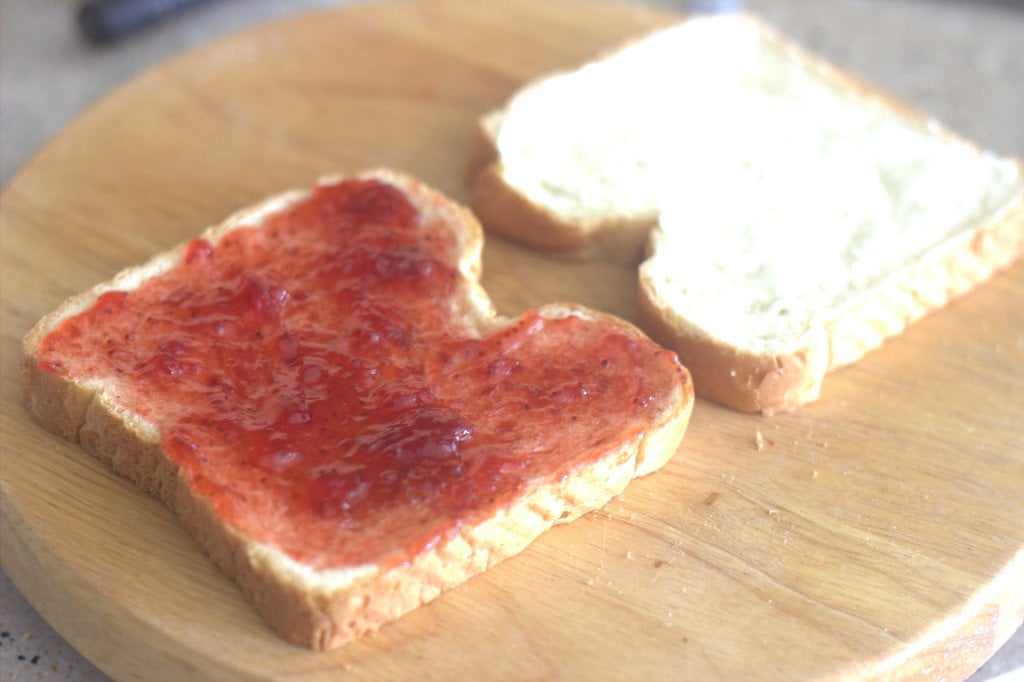 My favorite. Strawberry jam on one side and salted butter on the other side.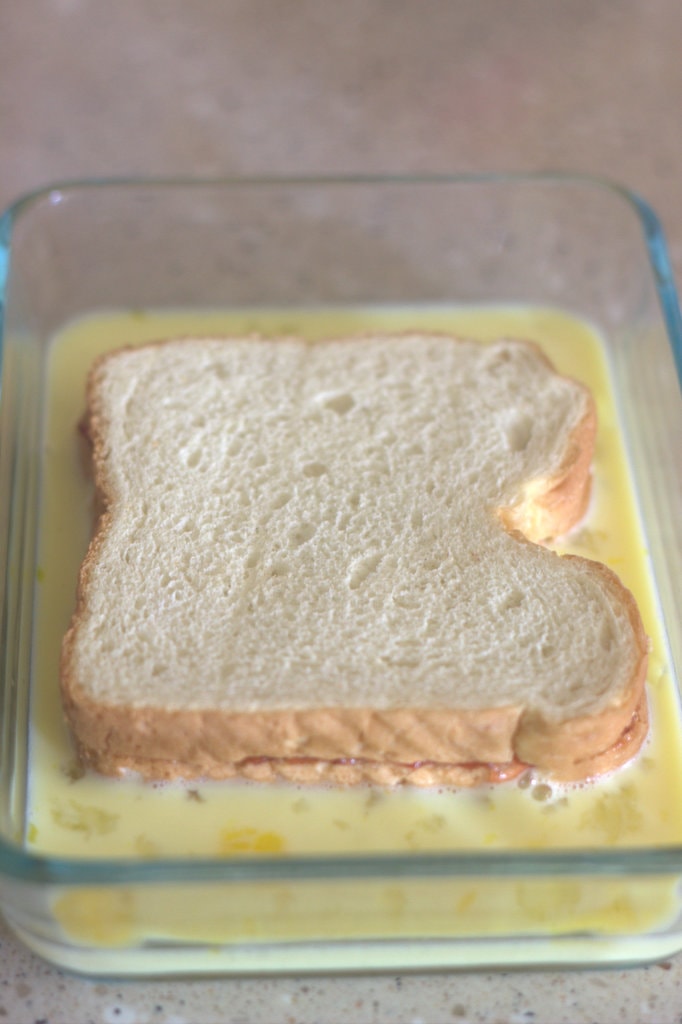 Preheat the oven to 375 Degrees Fahrenheit. Dunk the sandwich in custard. Let it soak for 30 seconds on both sides.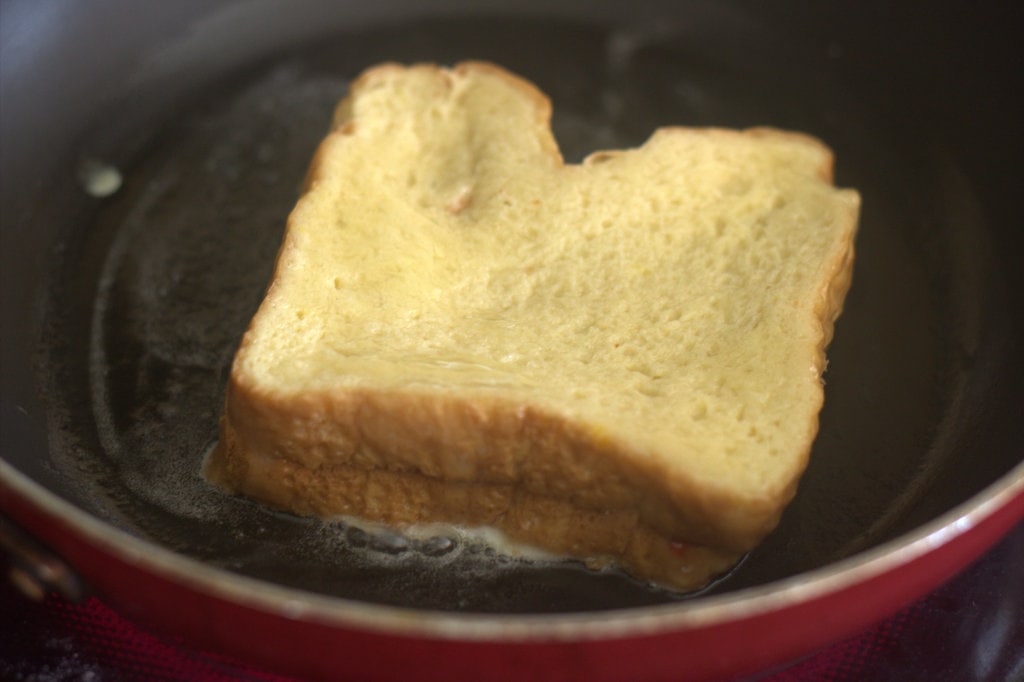 Melt 1/2 tablespoon butter in a pan. Fry both sides till golden brown, Transfer to a rack in the oven for 5 minutes.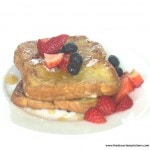 French Toast
Ingredients
1

cup

8oz (240ml) milk (Half and half or heavy cream is even better)

3

Large Eggs

2

and 1/2 tablespoons honey

1/8

teaspoon

salt

8

Slices

of old bread

challah, brioche, french bread

Few tablespoons of butter
Instructions
Whisk together egg + milk + honey + salt and keep aside. Pour into a shallow pan.

Dip the bread for 30 seconds and then place it on a wire rack for the extra custard to drain.

Preheat the oven to 375 degrees Fahrenheit/190 Degrees Celsius.

Melt 1/2 tablespoon of butter in a non-stick. Place bread in the pan and cook until golden brown on both sides for approximately 2-3 minutes. Remove from the pan and place in the oven rack for another 5 minutes.

Serve with honey, maple syrup, whipped cream, powdered sugar or berries.
Recipe Notes
Heavy cream and half and half will add richness, but its okay to use milk if you don't have cream in hand.
Bread should be at least a day old and let it rest on the countertop loosely covered to dry out. If the bread is not dry, toast will become soggy.
The type of bread used makes a difference. Try using one with a slightly firm texture. But if you don't have it, go ahead and use the one you have handy.
You can add 1/2 teaspoon of vanilla extract or cinnamon powder to the custard.
You can make the milk and egg custard overnight and keep it in the refrigerator.
If you are not a big fan of sweet, substitute honey with a pinch of sugar and serve it with ketchup.
Recipe partially adapted from: Alton Brown, Food Network