Its flaky, its flavorful, its versatile, the best thing about a galette. Add spinach and cheese and convert into an appetizer or add fruits and sugar and convert into a fruit galette.

Add walnuts or other nuts in the center leaving 1 inch towards the side.

Fold in the edges inside creating pleats. You can brush the outer surface with water, milk or egg wash and sprinkle some granulated sugar.
Pour the prepared custard after 20 minutes of baking and bake again for another 15-20 minutes until the custard is set.
Similar Recipes:
Almond cream berry tart with cashew crust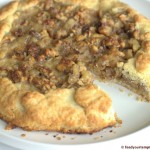 walnut Galette topped with custard
Ingredients
Chilled pie dough for a 9 inch crust Pie dough recipe

2

cups

chopped walnuts

1/4

cup

13gm packed brown sugar

FOR CUSTARD:

1

cup

240ml Heavy cream (Substitute: Whole milk)

1

Egg

1/4

cup

50gm granulated sugar

1/4

teaspoon

vanilla extract

1/4

teaspoon

cardamom powder

optional
Instructions
Sprinkle some flour on the parchment paper, place the chilled dough, place another piece of paper on top and roll the dough between the parchment paper. Alternatively the dough can be rolled on a work surface dusted with flour. Place this in the refrigerator for another 10 minutes. Preheat the oven to 400 degrees Fahrenheit or 205 Degrees Celsius.

Take the dough and leaving one inch on the outside, place the chopped walnuts in the center. Cover with brown sugar. Fold the edges in overlapping the sides to create folds. Bake in the oven for 20 minutes.

Meanwhile prepare the custard: Whisk together granulated sugar and egg in a bowl. Add vanilla and cardamom powder. Bring heavy cream to a boil. Add one spoon of cream at a time to the egg continuously whisking so the egg gets tempered.

After 20 minutes take the galette out, pour the custard in and bake for additional 15-20 minutes or until the custard is set.
Recipe Notes
If you like desserts towards more sweeter side, add 1/2 cup of brown sugar instead of 1/4 cup.
Cashews and pistachios go well instead of walnuts too. Creating a mix of all nuts is a great option.
You can glaze the outside of the pie crust with egg wash or milk and sprinkle some sugar for darker color.