These whole grain buns have the goodness of wheat, oats, flax seeds and honey. It is slightly sweet and tastes insanely delicious when served warm with whipped butter.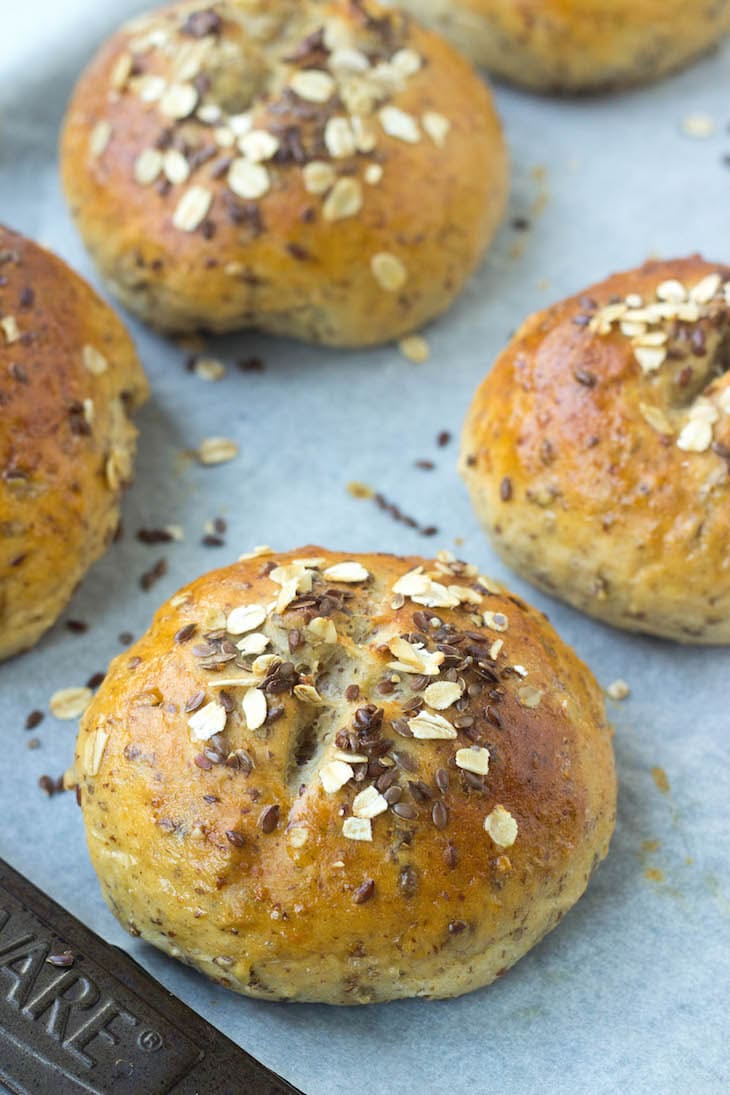 Any whole wheat bread is an acquired taste, and when you have acquired the taste, it's so easy to fall in love with it. I love the honey whole wheat bread you get at the Outback Steakhouse, and I can never get enough of it. To be honest, the main attraction of going there was the bread. Since I happened to come across many copycat recipes, I figured there are a lot of people like me. :). The whole grain bread here tastes similar, but the recipe is not even close to the ones I found on the internet.
Having said that, once in a while, I love to have the white sandwich bread, but then I try to avoid all-purpose flour whenever I can. This whole grain bread contains whole wheat, oats, coarsely ground flax seeds and honey. The honey gives it little sweetness.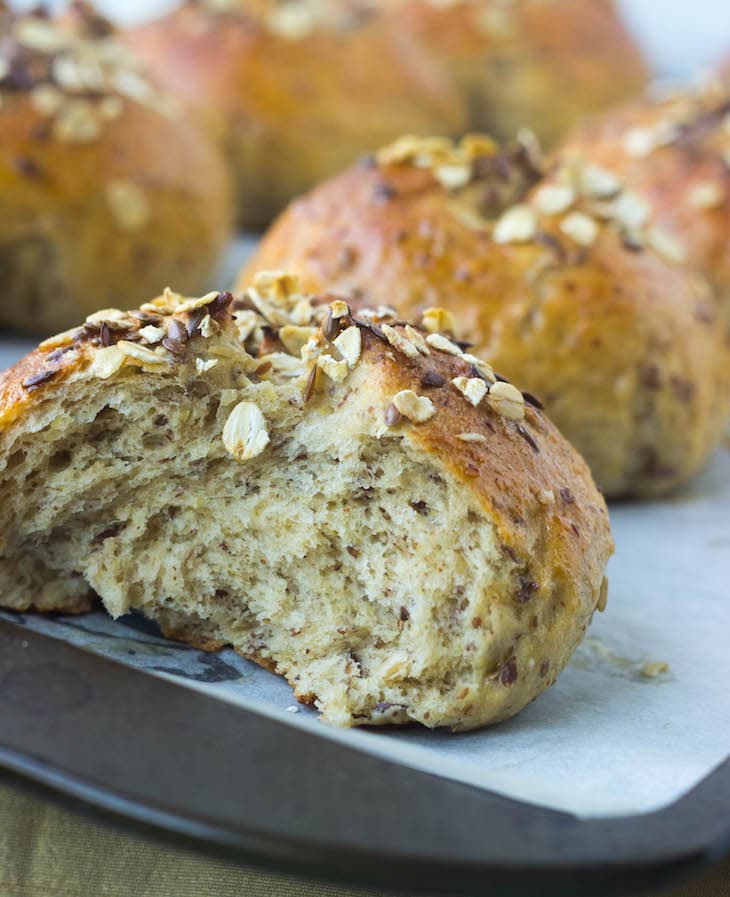 When you top the whole grain bread with flax seeds and rolled oats, it looks more appetizing. These rolls taste superb when you warm it up and brush some whipped salted butter on it. O My Goodness!
I have met many people who refrain from baking because of the calories and unhealthy ingredients associate with it. You have to be careful when you choose to substitute whole grain ingredients instead of the white flour because most of the recipes will end up being dense and the taste won't be even close.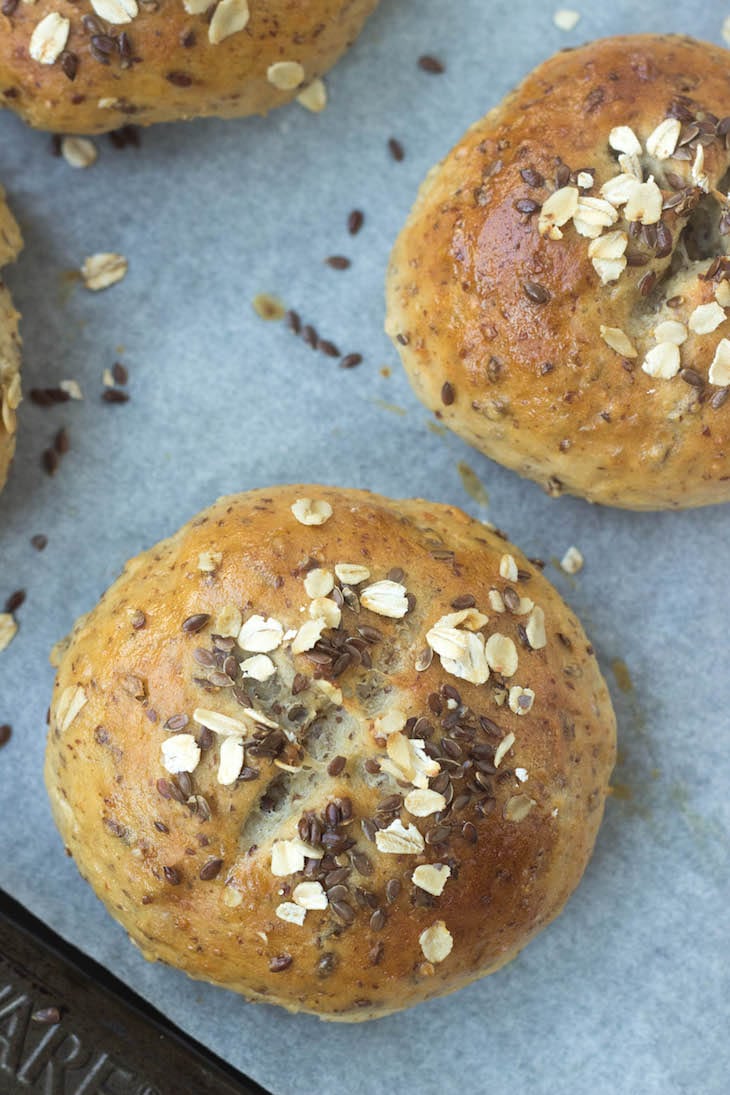 The trick with whole wheat is you have to add in more moisture than when you use all-purpose flour. Also, to get rid of the slightly bitter taste, things like yogurt, banana, and honey helps. You shouldn't have to sadden your taste buds just because you choose to use healthier options.
This bread is a lovely choice for those who love to bake healthy without compromising the taste and Speaking of which; the whole wheat chocolate banana muffins is a similar recipe, where it's hard to believe that it uses whole wheat.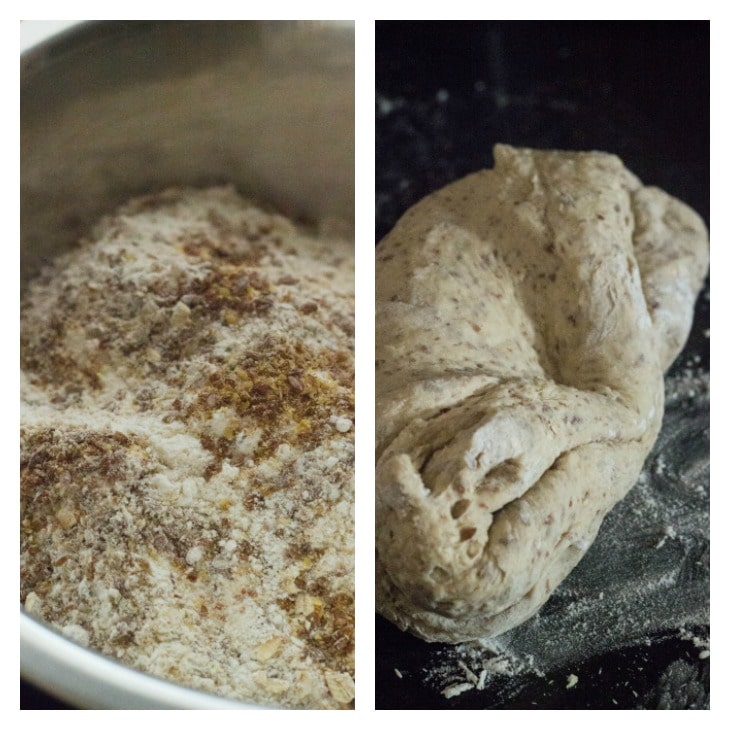 Once you have prepared the yeast, mix all the flours well before you add it to the wet mixture. Since its whole grain, the dough won't be as soft as the white bread dough.
Once you knead well, transfer to a lightly oiled bowl and cover it up with a damp cloth.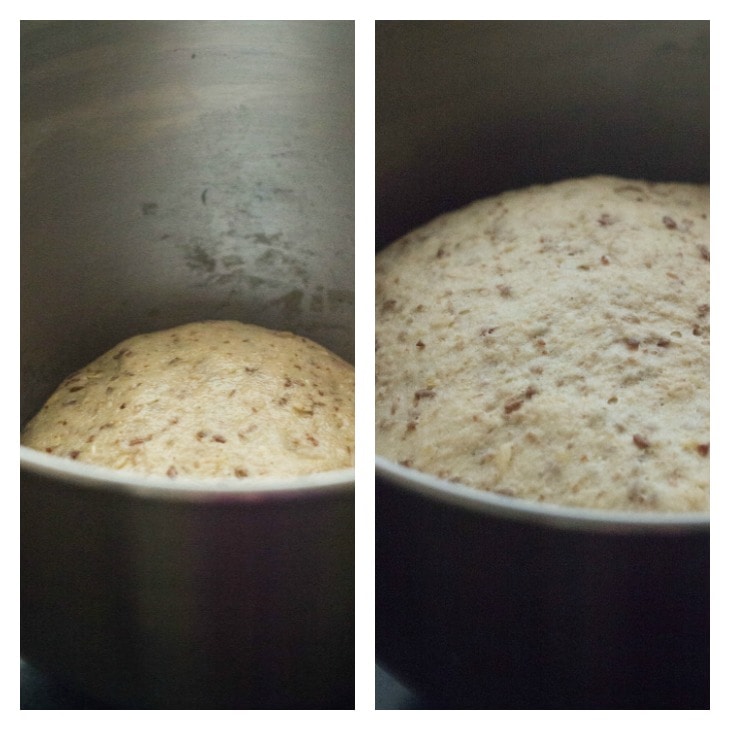 The dough will double in size in about 1 and 1/2 hour or 2 hours depending on the temperature in your house. If it's cold, leave the bowl in the microwave or a turned off oven for a faster rise.

Transfer to a lightly floured work surface, flatten it out and divide into 8 equal parts.
Take a single piece and bring the sides inside, pinching it in as you go.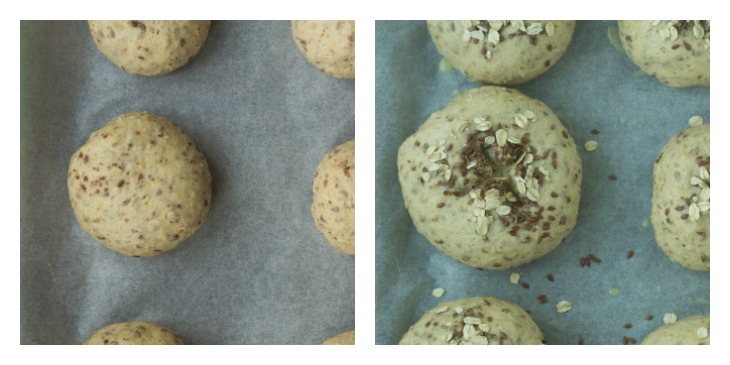 Keep the seam side down on a baking tray lined with parchment paper or silicon mat. Cover with a damp cloth and let the rise the second time.
Preheat the oven and brush egg wash gently on the rolls, covering the sides as well. Sprinkle some whole flax seeds and rolled oats.
P.S: You can substitute flax seeds with chia or additional rolled oats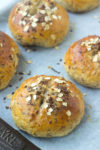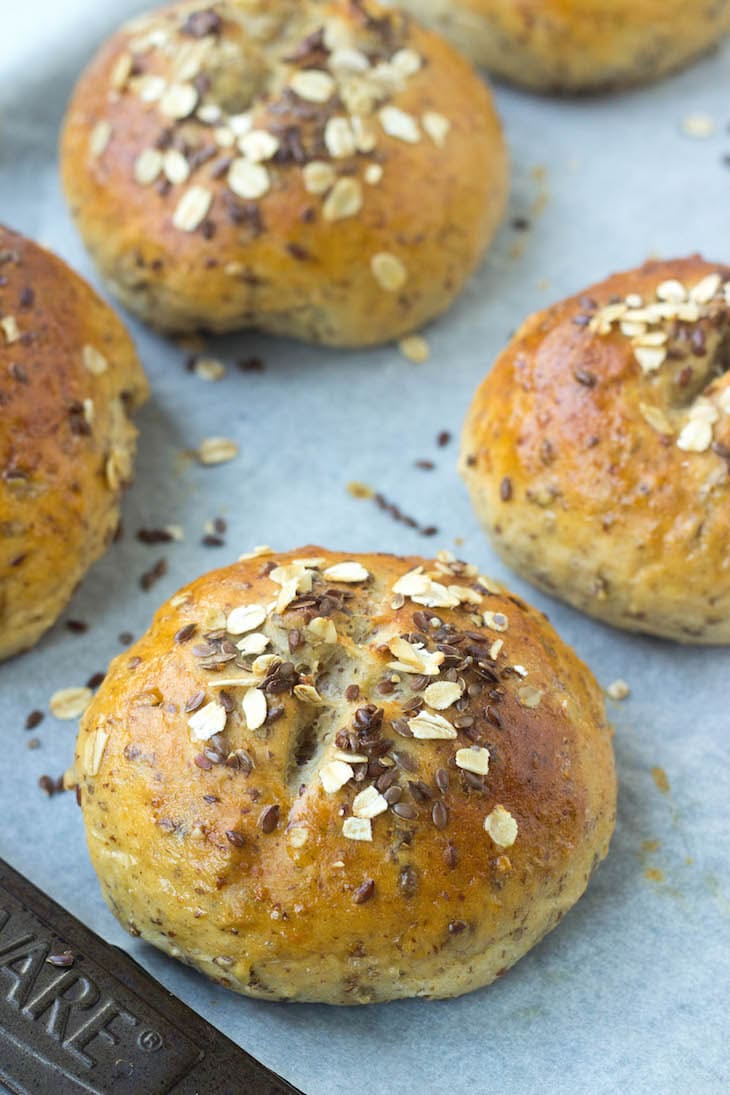 Whole grain bread | Wheat, Oats, flax seeds and honey
Please refer notes for substitutions
Course:
Whole Grain Bread
Ingredients
2

and 1/4 teaspoon

1 pack active dry yeast

3

tablespoons

honey

1

and 1/2 cup warm water

1

and 1/2 teaspoon salt

2

tablespoons

oil

2

cups

whole wheat flour

1

cup

all-purpose flour/maida

plus 1/4 cup or more for later

1/2

cup

flax seed powder

coarsely ground

1/2

cup

rolled oats

FOR THE EGG WASH:

1

Egg

1

tablespoon

water

pinch

of salt
Instructions
Mix yeast + honey + warm water to a mixing bowl and let it rest for 15 minutes or until the mixture froths. (I heated the water in the microwave for 40 seconds.)

Once the mixture froths, add salt + oil and stir.

In another bowl, mix whole wheat flour + 1 cup all-purpose flour + flax seed powder + rolled oats and add this to the yeast mixture.

Knead until a soft but slightly sticky dough forms. If not using a stand mixer, knead well for about 6-10 minutes with the palm of your hands, stretching the dough so that gluten can develop.

Add the remaining 1/4 cup + few more tablespoons of all-purpose as needed.

Transfer to a lightly oiled bowl and cover it with a damp cloth. Keep it aside for about 1 and 1/2 to 2 hours or till the dough almost doubles in size. Punch down the dough and transfer to a lightly floured work surface. Flatten it out and divide into 8 parts.

Take a single piece at a time and fold the edges in the way shown in the image above. Keep the rough side on the baking sheet lined with baking paper/parchment paper or a non-stick mat. Repeat with the remaining seven rolls.

Cover it with a damp towel and keep this for the second rise or until double, i.e., about 40 minutes.

Mix all the ingredients for egg wash (Egg + water + salt) and gently brush over the bun and towards the sides.

Sprinkle some flax seeds and rolled oats. With a sharp kitchen scissor cut the top of the rolls two times making a cross.

Bake in a preheated 200 Degrees Celsius / 400 degrees Fahrenheit oven for 20 to 25 minutes until the top is golden brown.

Take the rolls out of the oven and immediately brush some melted butter on top. (optional)
Recipe Notes
You can substitute flax seeds with chia or additional rolled oats.
Also, you can substitute honey for sugar.