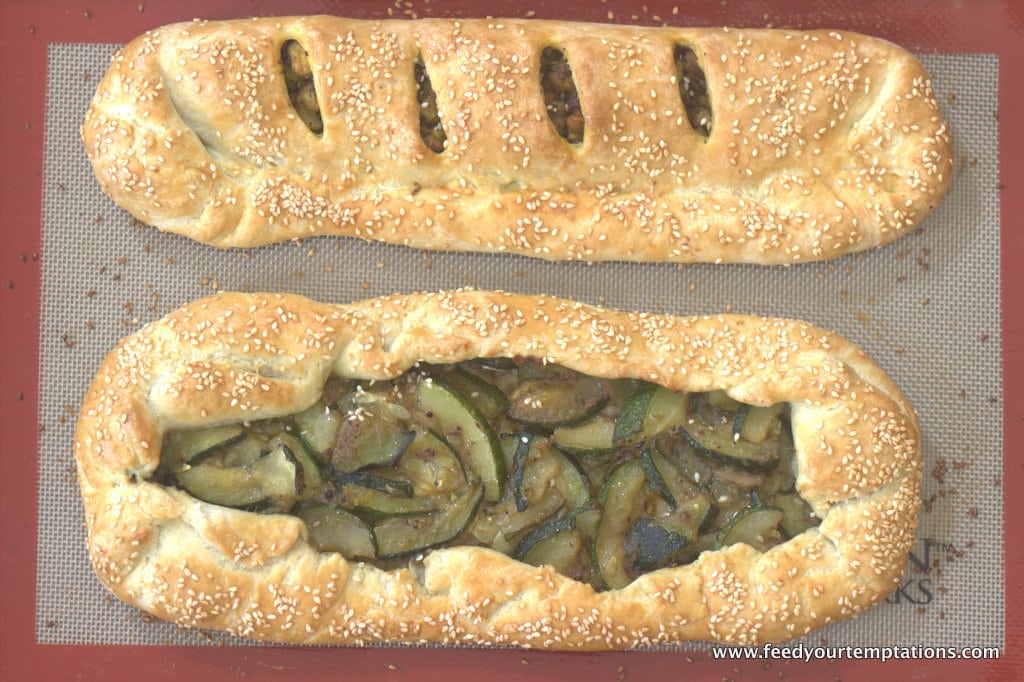 Sometimes imperfections can have a special beauty. A galette is a perfect example. The edges are folded inside without giving it a smooth finish. The more rustic it is, the more appetizing this looks. Did you watch the FIFA world cup? I did with couple of our friends and it was fun. This galette was served as the tea time snack. Although, I generally lean towards desserts whenever there is a potluck, this time I decided to go with something savory. Getting pie dough ready from scratch takes less that 10 minutes, but sometimes, that 10 minutes can be dreadful, and when you see the dirty dishes pile up, the felling of making things from scratch takes a different turn. Having said that, my heart rarely allows me to follow shortcuts. Still, what I have learnt is, always have pastry sheets and puff pastry sheets in your refrigerator. It comes handy when you have a last minute get together or surprise guest.
The best thing about galette is, you can fill it up with your favorite fruit or nuts. Fruit galette is a best way to utilize your overripe fruits. Walnut galette can serve as a dessert. If you plan to go with dessert, don't forget to add some sugar instead of sesame seeds.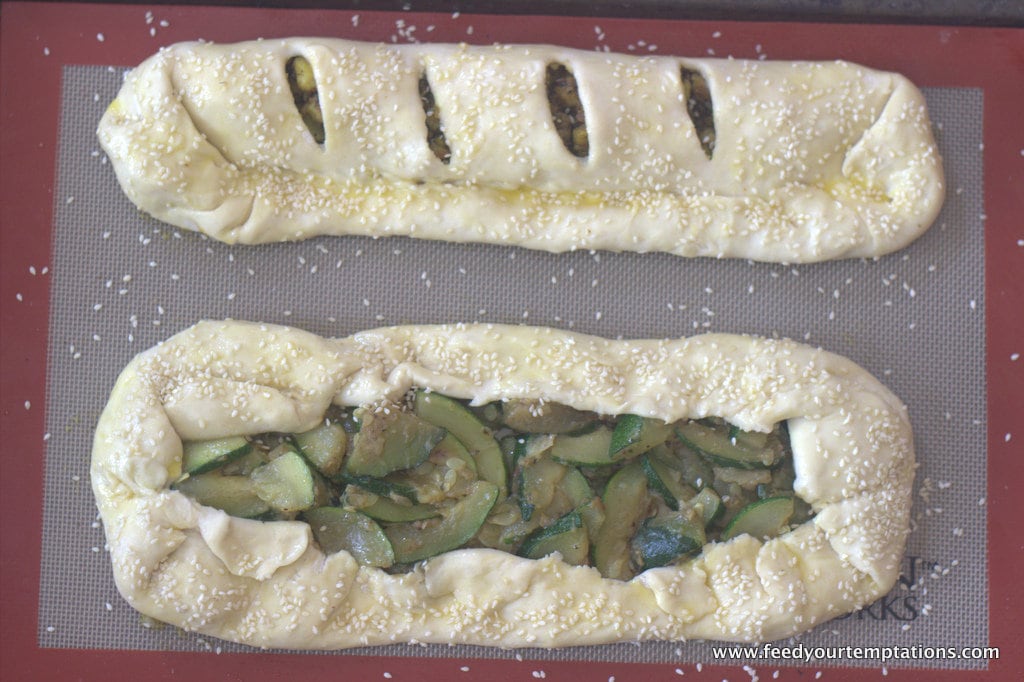 My initial plan was to make spicy potato filling. Don't you hate it when you run out of ingredients when you have planned to make something. I ran out of potatoes this time. Earlier I was so dependent on a specific recipe, that I would follow all the ingredients to the T. Times have changed and I try using the things I have at home. I made use of some zucchini lying in the fridge. One thing that I missed was sprinkling some cheese the moment it was out of the oven.
Savory Zucchini Galette
Pastry dough resting time : 30 minutes
Ingredients
FOR PIE CRUST:

You can use the readymade store brought pie crust

3

cups

All purpose flour / maida

1

teaspoon

salt

1

cup

2 stick(226g) cold unsalted butter, cut into 1/2 inch cubes

1/2

cup

+ 2 tablespoons ice cold water

FILLING:

4

Zucchini

sliced about 1/4 inch thick

2

tablespoons

oil

1

teaspoon

garam masala/all spice mix

1

teaspoon

paprika/red chilly powder

salt to taste

2

tablespoons

all purpose flour/maida

EGGWASH:

Vegetarians can use milk

1

egg + 1 tablespoon water. beaten well

SPICY POTATO FILLING: Recipe here
Instructions
PASTRY DOUGH: In a jar of a food processor, add flour + salt. Add 1/2 of the chopped butter and process it until pea size granules form. Add the remaining butter and process again to form pea size chunks.

Sprinkle the ice cold water and process until the mixture is moist. The mixture will still look powdery, but when pressed between your fingers it should retain its shape.

Transfer into a bowl and knead for another 30 seconds. You will see chunks of butter, but that's alright. Cover the dough with a a plastic wrap and place it in the refrigerator for 30 minutes. While the dough is resting, prepare the filling.

Place a non-stick mat or parchment paper on the counter and lightly dust with flour. Roll into a circle or rectangle about1/8th inch thick. Place the filling in the center leaving an inch space on the outside. Fold the outer edges in. It doesn't have to be perfect (That is what makes galette rustic) Brush the edges generously with egg wash. Sprinkle with sesame seeds.

Bake in a preheated 400 degrees fahrenheit oven for 35-40 minutes or until the crust turns golden brown.

FILLING:

Heat oil in a pan on medium high heat. Add Zucchini and sauté until cooked but little firm. Add garam masala + paprika + salt and sauté again. Add all purpose flour to absorb the moisture from the zucchini. Adjust the salt and spices if needed. Let the filling cool completely before placing it on the pastry sheet.
Recipe Notes
You can use Eggplant instead of Zucchini. You might need more spices if doing so.
You can make mini galettes also. Normally galettes are shaped into circles.
Fruit galette is a good alternative too.