Cream cheese, condensed milk, and heavy cream go into this EASY | NO-COOK|EGGLESS ICE-CREAM. A different layer of flavors can be found in this irresistible cassata recipe.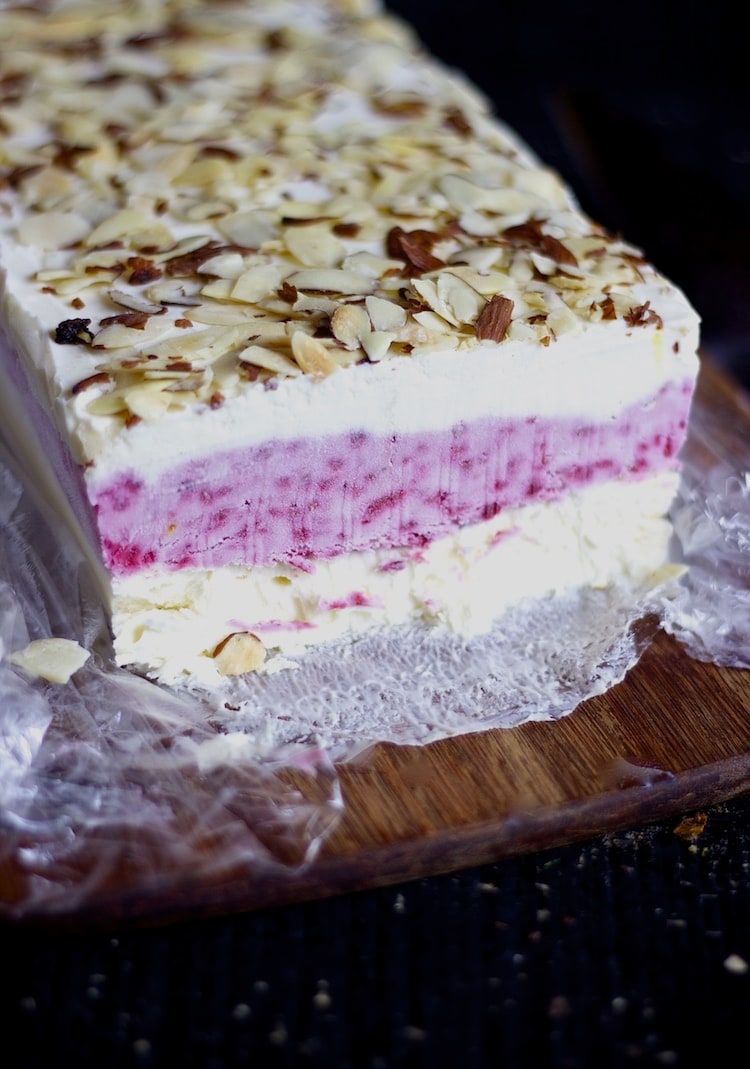 This cassata is creamy, rich, eggless and lip-smacking. Can a combination of cream cheese, condensed milk, and heavy cream ever go wrong? No ways 🙂
Try this frozen treat with your favorite flavor and let your imaginations run wild. No cooking needed. The Creamy almond and pistachio kulfi is equally good and requires no cooking.
Ooh and don't forget the easy eggless chocolate mousse too.
Now going back to the main topic, the possibilities to this cassata recipe are endless. After I was done making it, I felt I could have done so much more.
Cassata brings back some old memories, something hilarious which makes me smile till date. Its remind me how showoffs can sometimes get back to you in ways you might have never even thought. It is a story about someone who would boast about whatever he could.
Back in college, we used to go to an ice-cream place which was famous for its cassata. We all ordered cassata, except for Mr. Showoff. He ordered something fancy from the menu, a name which was even tougher to pronounce. Our cassata arrived on the table, significant portions, irresistible, cannot wait to dig into, and then Mr. Ss thing came. The moment we saw his order, we all rolled on the floor laughing, and we couldn't catch our breath for a long time:). As fancy as the name sounded, the portion size was tiny, cost more and poor thing couldn't even finish it.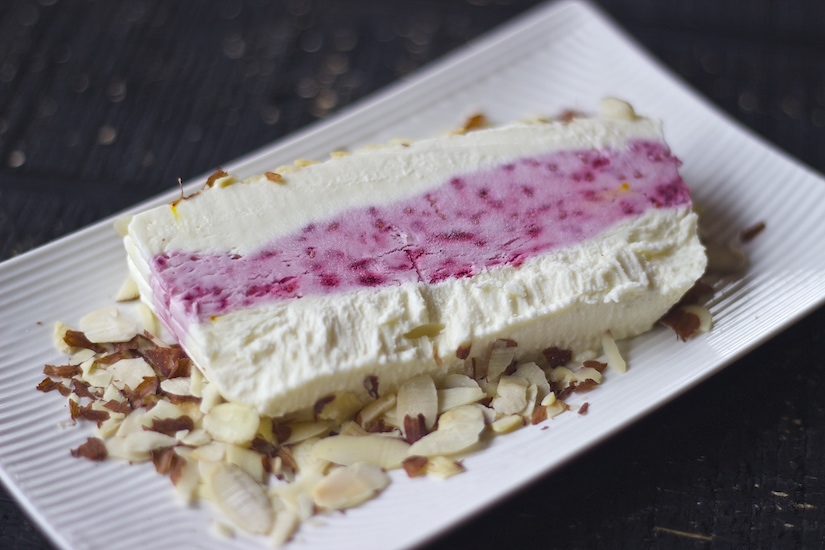 Moral of the story: Not everything that sounds fancy tastes good :).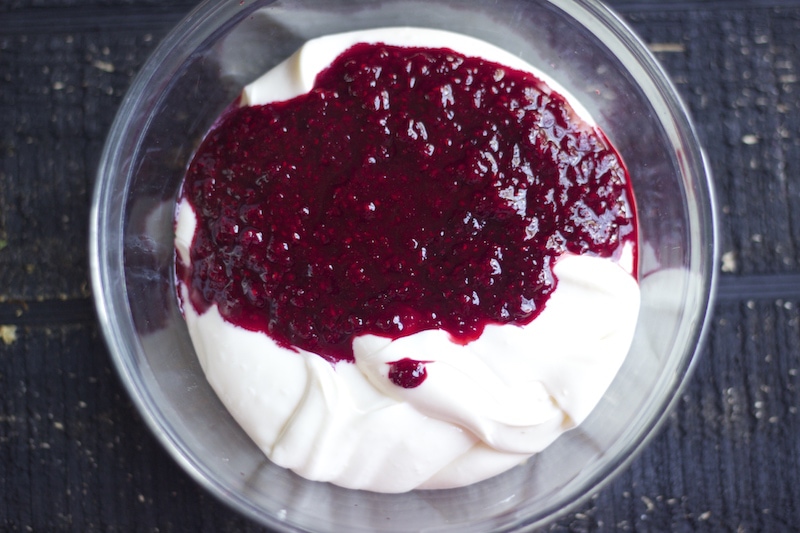 The sandwiched layer is made of homemade raspberry syrup. The recipe is included.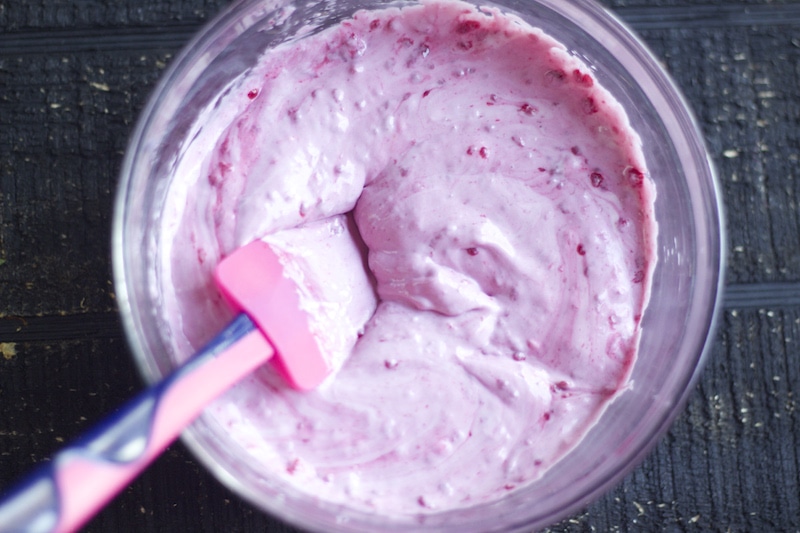 Things you could do to modify this cassata recipe:
Use raspberry jam or any other jam, jellies or syrups to make your work easier by getting rid of one step.
Add more layers of flavor: Melted chocolate, crushed pistachios, different flavors of jams. Keep thinking…
Divide the cream cheese mixture into a different bowl and stir in the flavor, thus creating more layers.
Or just add vanilla and keep it simple, a single flavor.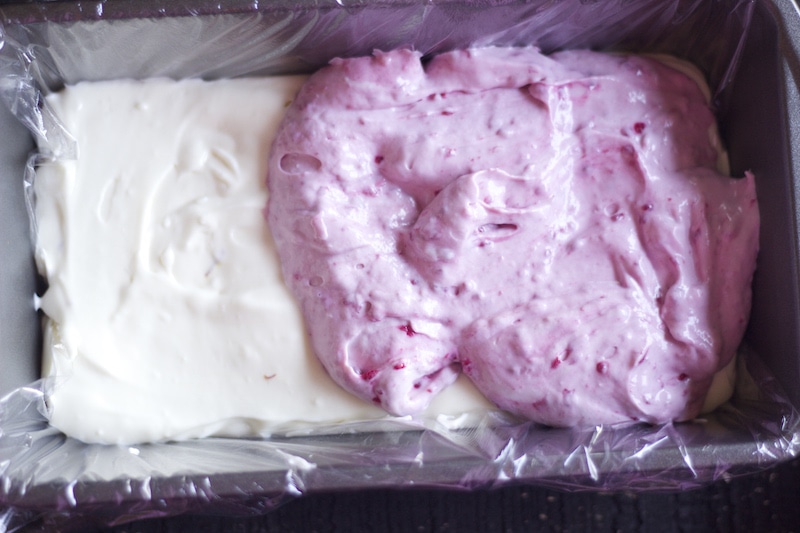 Enjoy the creamy goodness.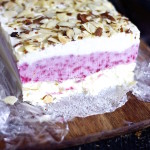 Cassata - A layered ice-cream
Refrigeration time: 4 hours
Ingredients
24

oz

678 gms (3 packs) cream cheese, at room temperature

1

cup

heavy whipping cream

2, 14

oz

396gms cans, sweet condensed milk

PREPARING RASPBERRIES

Please refer notes for easy substitutes

1

cup

Rasberries

1/4

cup

sugar

1

teaspoon

lemon juice

1/4

cup

water
Instructions
PREPARING RASPBERRIES:

Add raspberries + sugar + lemon juice + water in a saucepan and bring the mixture to a boil. Turn the heat to low and let it simmer till it thickens, about 5-10 minutes. Crush it with a spoon. Let it cool before adding to the cream cheese mixture.

ICECREAM:

Add cream cheese to a bowl and beat until the cream cheese is soft. To this add heavy whipping cream and mix till stiff peaks form.

Add one can of condensed milk and mix well. Add the remaining condensed milk 1/4 cup at a time as needed. Taste and adjust the sweetness to your liking. (I used 1(14oz) can and 1/2 cup from the 2nd can).

Remove 1/3 of the cream cheese mixture into a bowl. Add the cooled raspberry mixture. Stir well.

Place a plastic wrap in a loaf pan. Add 1/2 of the cream cheese mixture. Smooth it and add the raspberry flavored filling. Smooth again and add the remaining cream cheese mixture.

Top with roasted sliced almonds or pistachios.

Place the plastic wrap touching the top of the ice-cream. Cover with aluminum foil and refrigerate for 4 hours or more till the ice-cream sets.

Leave it outside for 5 minutes before scooping or slicing.
Recipe Notes
Placing a plastic wrap in the loaf pan will make it easier for you to lift it from the pan for easy slicing.
Place a plastic wrap touching the top of the ice-cream and cover with aluminum foil.
(This will help to get rid of freezer burns).
To create different flavors: 
Divide the cream cheese mixture into a different bowl and stir in different flavors.
Use melted chocolate, crushed pistachios, different flavors of jams etc.