This moist pumpkin bread with best streusel topping is by far the best pumpkin bread. This incredibly moist pumpkin bread has the right texture. Moreover, its  super fantastic pumpkin streusel topping adds a slight sweetness and the perfect crunch.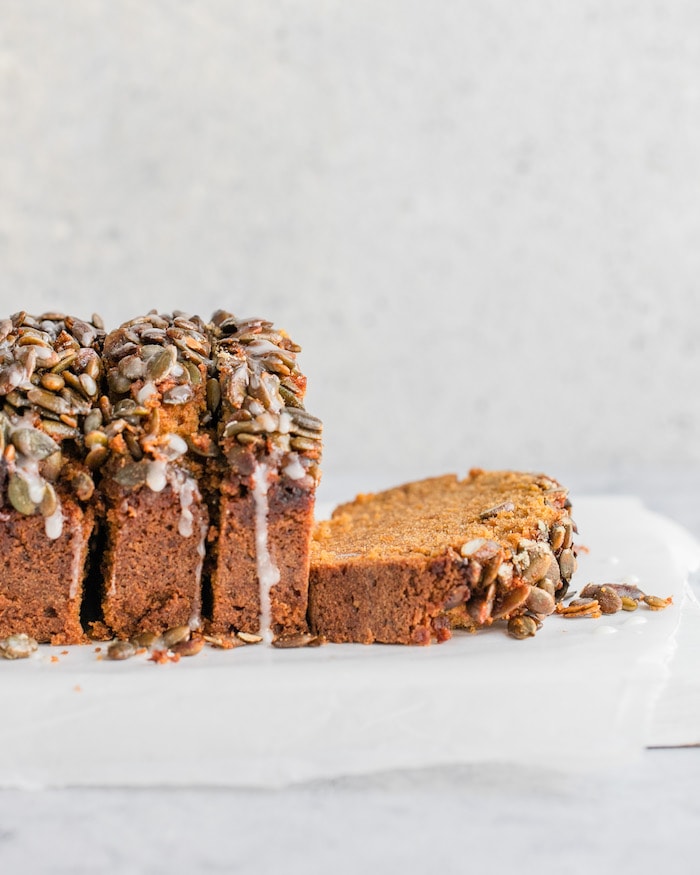 With the holiday season just around the corner, its time to put on your apron and get ready to make something totally spectacular for your holiday season.
Whether it is Thanksgiving or Christmas, each occasion calls for something special to be made.
Although, you can find a number of recipes to try out this season, but the moist pumpkin bread recipe is undoubtedly considered to be one of the best holiday baking recipes.
Don't miss the opportunity to try out this easy pumpkin bread recipe. 
For people who love pumpkin, you can also try out my unique recipes of pumpkin spice latte and pumpkin streusel muffins.
However, if you want to try out something totally different, then you will definitely enjoy trying out both fresh orange muffin recipe and blueberry muffin recipe during your holidays.
While trying out the fall baking recipes, make sure to try out the libby's pumpkin puree recipes and the special libby's pumpkin bread recipe.
Main Ingredients of Pumpkin bread:
Pumpkin:
The choice of pumpkin will help to create a super moist pumpkin bread. It is important to add the right amount of pumpkin which will enhance the flavor and texture without making the cake too soft or mushy.
Sugar:
Since pumpkin is quite bland on its own, it is important to add sugar, which will help to balance out the pumpkin.
Pumpkin Streusel Topping:
The pumpkin bread with streusal topping recipe is different from the ones you usually find.
However, it is totally worth it, since it does not have too much sweetness.
You can also use any other nuts in the similar way.
It's great on the coffee cake, simple vanilla cakes, and muffins.
For the streusel, coat the pumpkin seeds with honey and butter. Make sure to place it in the fridge for some time, so that it can achieve its required consistency.
Storing the pumpkin bread:
You can keep the bread in the pan untouched and simply wrap it in aluminum foil. You can also cut the bread into slices and store in an air-tight container.
Whichever way you choose, you can keep the bread in the fridge for up to 10 days.
If you want a slice, just heat it in the microwave for about 15 seconds and you can enjoy the moist pumpkin bread with streusel topping.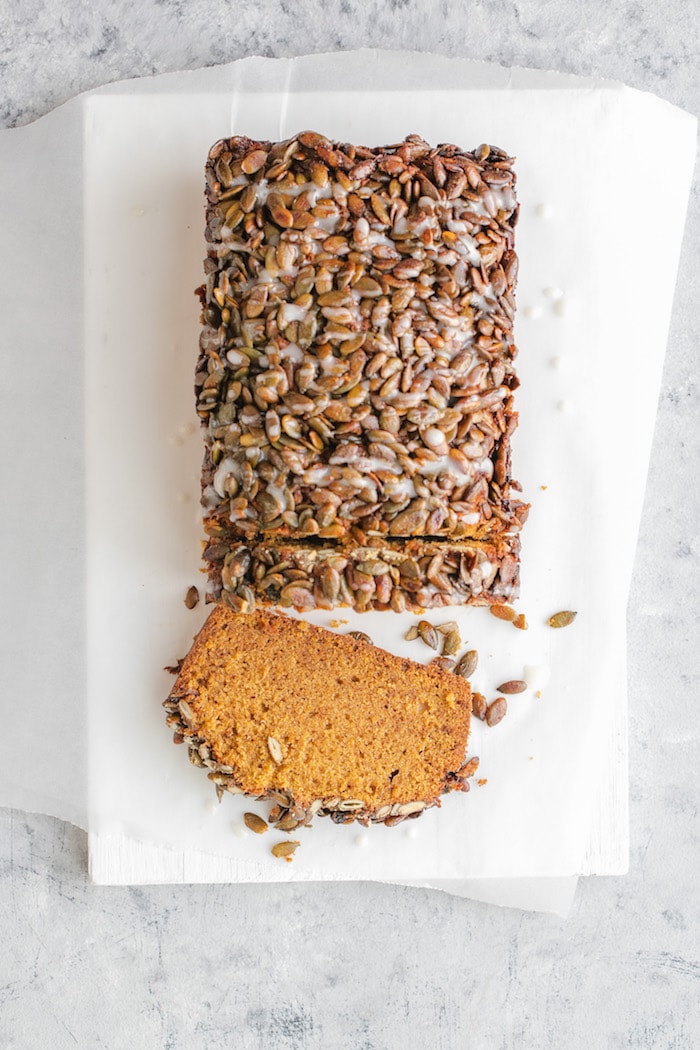 Also, if you like muffins, try the whole wheat apple cinnamon muffins or orange muffins with real oranges. It is the most popular recipe on the blog.
Another great option is the whole wheat chocolate banana muffins with yogurt if you are looking for healthy muffins. These make excellent lunchbox idea or kids snack.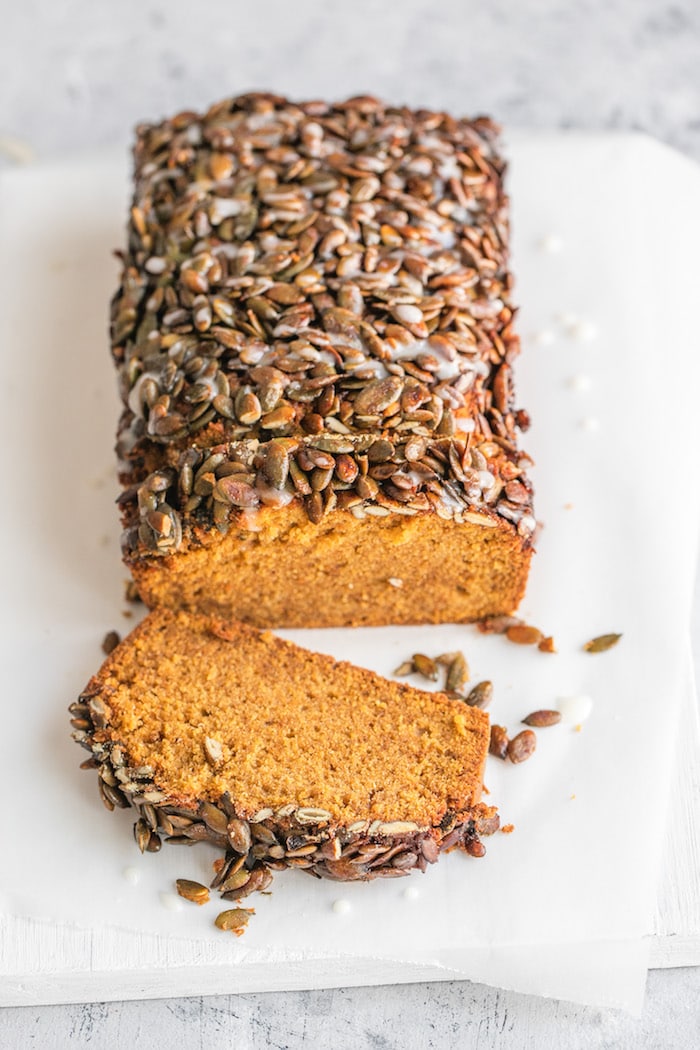 If you are on a lookout for a pumpkin muffin recipe and pumpkin latte recipe, stay tuned!
P.S: Check this Weeks blogging tips below the recipe: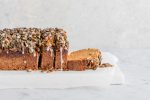 Moist Pumpkin Bread with best Streusel Topping
This moist pumpkin bread with best Streusel topping has the right texture and also a super fantastic pumpkin streusel topping.
Ingredients
2

cups

(220g) all-purpose flour

1

teaspoon

baking soda

1/2

teaspoon

baking powder

2

teaspoons

cinnamon powder

1

teaspoon

pumpkin spice

1/2

teaspoon

salt

1/2

cup

(113g) unsalted butter

3

tablespoons

vegetable oil

3/4

cup

white sugar

1/3

cup

light brown sugar

2

large eggs

2

teaspoons

vanilla extract

1

cup

(240ml) pumpkin puree

(not pumpkin pie mix)

1/4

cup

(60ml) milk
For the Pumpkin Streusel Topping:
1

cup

pumpkin seeds

2

tablespoons

butter

melted

2

tablespoons

honey
Instructions
Preheat the oven to 350 Degrees Fahrenheit / 175 Degrees Celsius.

Swift together all-purpose flour + baking soda + baking powder + cinnamon powder + pumpkin spice powder + salt and keep aside.

In a bowl, beat butter + white sugar + brown sugar + oil till light and fluffy.

Add egg and vanilla and mix only to incorporate.

Stir in the pumpkin puree and milk.

Add the flour little at a time and mix together until the flour is moistened well and lumpy. (Do not overmix)

Transfer the batter into a greased and parchment paper lined 9 * 5-inch loaf pan.

In a bowl, add pumpkin seeds + melted butter + honey and mix till the pumpkin seeds get coated well. Spread it over the batter and gently press the nuts.

Bake for 60-70 minutes or until a skewer inserted in the middle of the bread comes clean or with tiny crumbs.
Recipe Notes
I used Libby's pumpkin puree.
Here is a great resource from Sarah of BromaBakery on ways to curate the Perfect Instagram Feed.