Freshly squeezed orange juice and chia seeds jello.
As I glanced through the red jello my son was having, I wondered if it has only color and water or does it have tiny bit of fruit juice or necessary nutrients. This is the way you begin to think once you have a child and you try to plan their meal like a dietitian does.

I kept staring at the dark red color, I kept thinking how I can avoid artificial colors in food. Very rarely do I add food coloring unless I don't have a choice, like the red velvet cake but, guess what? The concept of red velvet cakes started with beet juice. Its only later that because of ease, people started using food color and food industry always comes up with easy ways, right?
Have you ever seen the tiny chia seeds absorbing the liquid and floating like a tiny jelly . I love observing that when I add it to my green tea. It looks cute and not to mention the health benefits it has. Its becomes soft, gelatinous and crunchy when you add it to warm liquids.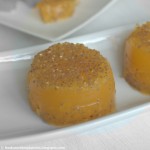 Orange jello with freshly squeezed juice and chia seeds
Refrigeration time: 2-3 hours
Ingredients
2

cups

Orange juice or any other fruit juice

2

tablespoons

chia seeds

optional, but looks and tastes good

2

envelopes gelatin

Vegetarian substitutes: Agar-agar , pectin

Sugar or honey

if needed
Instructions
Soak gelatin in 1/2 cup of cold fruit juice. Keep it aside for 5 minutes or till the gelatin dissolves.

Bring 1 1/2 cup of juice to boil in a sauce pan.

Stir hot liquid into the cold juice and let it stand for 5 minutes. Add 2 tablespoon of chia seeds. It will swell and sink to the bottom.

Pour into single or multiple molds and refrigerate for 3 hours or until set.
Recipe Notes
When using gelatin, agar-agar or pectin, check the manufacturers instructions on how much ratio of gelling agent to juice should be used.
Chia seeds are highly nutritious and can be found at whole foods or health food store. It can be added to green teas, milk shakes or any liquid.