I have fallen in love with Dorie Greenspan's book 'Baking'. She is also the author of best selling book ' Baking with Julia'. If you are really keen on baking then I think this book is the way to go. This book has awesome recipes and is well written.
Since I followed the dough recipe from this book I thought I should mention that.
Related Recipes: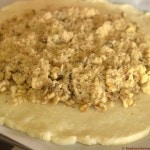 Pie Dough - Also good for galettes, turnovers or tarts
Ingredients
1 1/2

cup

180gm All purpose flour

2

tablespoons

sugar

3/4

teaspoon

salt

1 1/4

stick

140gm unsalted cold butter

2 1/2

tablespoons

vegetable shortening

frozen even better (Optional, refer notes)

1/4

cup

60ml ice cold water
Instructions
Add flour + sugar + salt in a food processor and pulse to combine.

Drop butter, cut into 1 inch cubes and shortening into the flour and pulse only until butter is cut into flour and pea size crumbs form.

Now add water 1 tablespoon at a time and pulse again to combine. When adding the last tablespoon of water, add drop by drop and pulsing each time adding only as needed.

Pinch into the flour mixture, it should withold the shape. The flour will be still powdery in the processor. Transfer into a work surface, gather into a ball and flatten into a disk. Wrap it tightly in a plastic wrap and refrigerate for atleast 1 hour before before using it.

When ready to roll dust parchment paper with flour, place the disk on it, dust some more flour on the disk, add another parchment paper on top and using a rolling pin roll into a flat sheet. The pie sheet along with the parchment paper can be transferred onto a sheet for baking. Alternately a floured work surface, can be used for rolling. Either way check in between to see if the dough is sticking to the surface and turn sides as needed.
Recipe Notes
Butter gives the crust flavor while vegetable shortening makes the dough flaky, but if you don't have vegetable shortening, its ok to keep it out.
If covered well in a plastic wrap this dough can be stored in the refrigerator for 5 days and upto 2 months in the freezer.
Moist dough is always better than dry dough.
Recipe adapted from: Dorie Greenspan's book 'Baking'