This shrimp Teriyaki noodle is an under 30-minute meal. It's quick, easy and equally appetizing. A few minutes of prep work may be needed depending upon if you require your shrimp to be bouncy like you find in restaurants.
I used Somen (Japanese style thin noodles) for this teriyaki. Its Organic and 100% whole wheat and the only ingredient on the label was, organic whole wheat and salt. I doubted that because of the texture, look and the taste was so much like the regular enriched wheat noodles, which means it was too good. Recently I found an Asian grocery place with an entire aisle full of different types of noodles from soba to egg noodles. Wow! It is every noodle lovers paradise.
This Teriyaki sauce is homemade with soy sauce as one of the main ingredient. It is so much healthier than the store-bought ones and takes only a few minutes to prepare. If you have store-bought teriyaki sauce, then you can reduce the prep time by few minutes.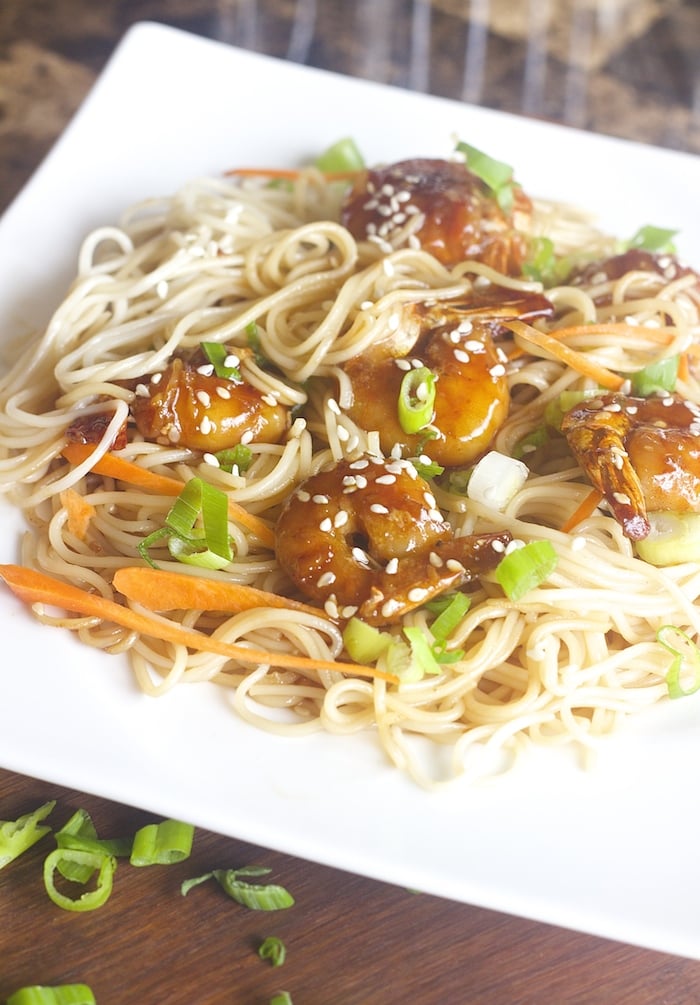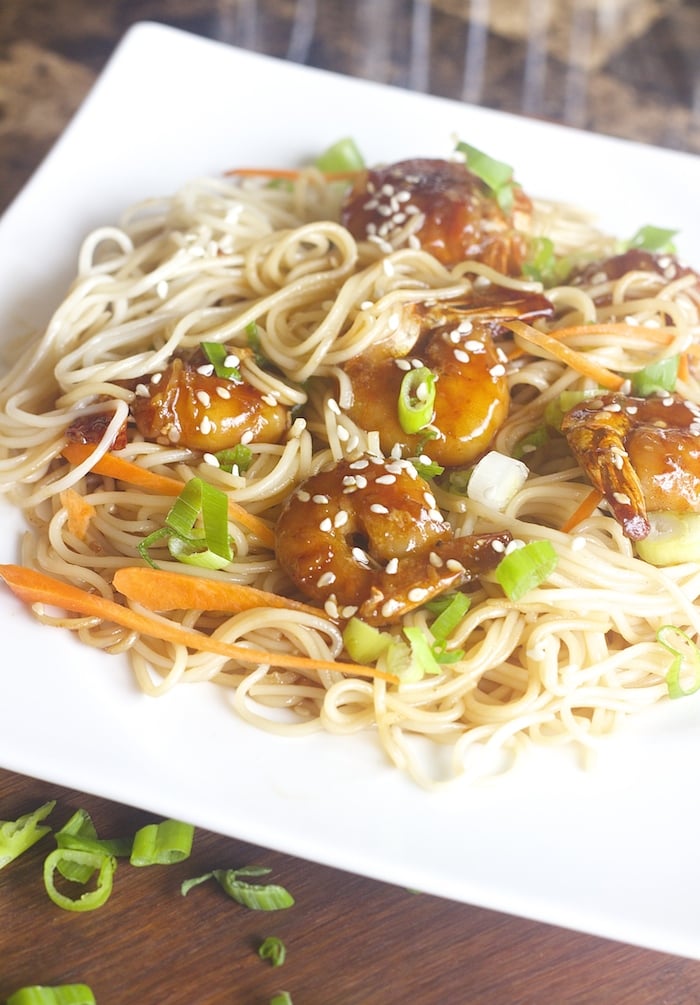 Did you ever pay attention to the shrimp you get at restaurants? It is bouncy and plump. The trick is to massage the shrimp with baking soda and submerge it in ice-cold water for 30 minutes. After 30 minutes, rinse the shrimp well with fresh water, drain, pat dry. Add cornstarch and egg whites to the shrimp, cover and refrigerate for another 2-4 hours before using. I got this tip in Easy Chinese Recipes cookbook from RasaMalaysia.com. It is a good cookbook to have if you like Chinese food.
This teriyaki sauce is homemade. Fresh juice, honey, and brown sugar make it a healthier version. A low sodium soy sauce would be a bonus.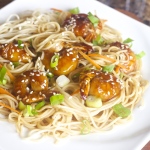 Shrimp Teriyaki with homemade Teriyaki Sauce
Ingredients
1

Pound

1/2 kg Shrimp, peeled and deveined

9.5

oz

269g Noodles (I used Japanese style Somen)

2

tablespoons

oil

Preferably sesame oil

1

teaspoon

minced garlic

1

teaspoon

minced ginger

1/2

cup

julienne carrot

Sesame seeds for garnish

green onions for garnish
PREPARING SHRIMP (Optional)
1

teaspoon

baking soda

1

Eggwhite

1

tablespoon

cornstarch
TERIYAKI SAUCE
1/2

cup

soy sauce

1/4

cup

juice or water

Please Ref notes

2

tablespoons

sweet rice vinegar

4

tablespoons

brown sugar

1/4

cup

honey

1

tablespoon

ketchup

1

and 1/2 teaspoon minced garlic

1

and 1/2 teaspoon minced ginger

THICKENER

1/2

tablespoon

cornstarch

1

tablespoon

water
Instructions
TERIYAKI SAUCE
Add all the contents of the sauce in a saucepan and bring it to a boil. Mix the thickener together (Cornstarch + water) and add it to the sauce. Turn the heat to low and let it simmer till the sauce thickens. Once the sauce cools, store it in a glass jar in the refrigerator for a week.
PREPARING SHRIMP
Massage 1 teaspoon of baking soda to the shrimp, cover it with water and add a cup of ice. Let it sit for 30 minutes. Rinse the shrimp well with running water and pat dry. Add 1 tablespoon of cornstarch and egg whites to the shrimp and mix well. Cover and put in the refrigerator for 2-4 hours.
NOODLES
Cook the noodles as per the instructions on the package to the desired firmness. Drain the water and rinse with cold running water. Add few drops of oil and coat well. This ensures that the noodles don't stick and also stays well if stored in the refrigerator for few days.
PUTTING IT ALLTOGETHER - TERIYAKI SHRIMP NOODLES
Place a wok/pan over high heat. Add oil and then the garlic and ginger.

Add the carrots and sauté for few seconds. Now add the shrimp. Sprinkle some salt and pepper and saute for a minute or so.

Add 1/4 cup of teriyaki sauce and let the shrimp simmer for a while till the shrimp get coated.

Add the noodles and more sauce if needed. Mix well and transfer to serving plate.

Sprinkle some sesame seeds and garnish with chopped green onions.
Recipe Notes
I used orange juice. Pineapple juice is a good option too. If you don't have rice wine vinegar, you can substitute it with sweet red wine. You can use low sodium soy sauce instead of the regular soy sauce. Add the brown sugar 1 tablespoons at a time. Taste and add more as needed. White sugar can be added instead of brown sugar if you don't have it handy. Taste and adjust the amount of sugar as needed.