To make this delicious spicy chicken fry, Coat the chicken with spices and fresh herbs and then shallow fry to perfection. You can make it under 30 minutes.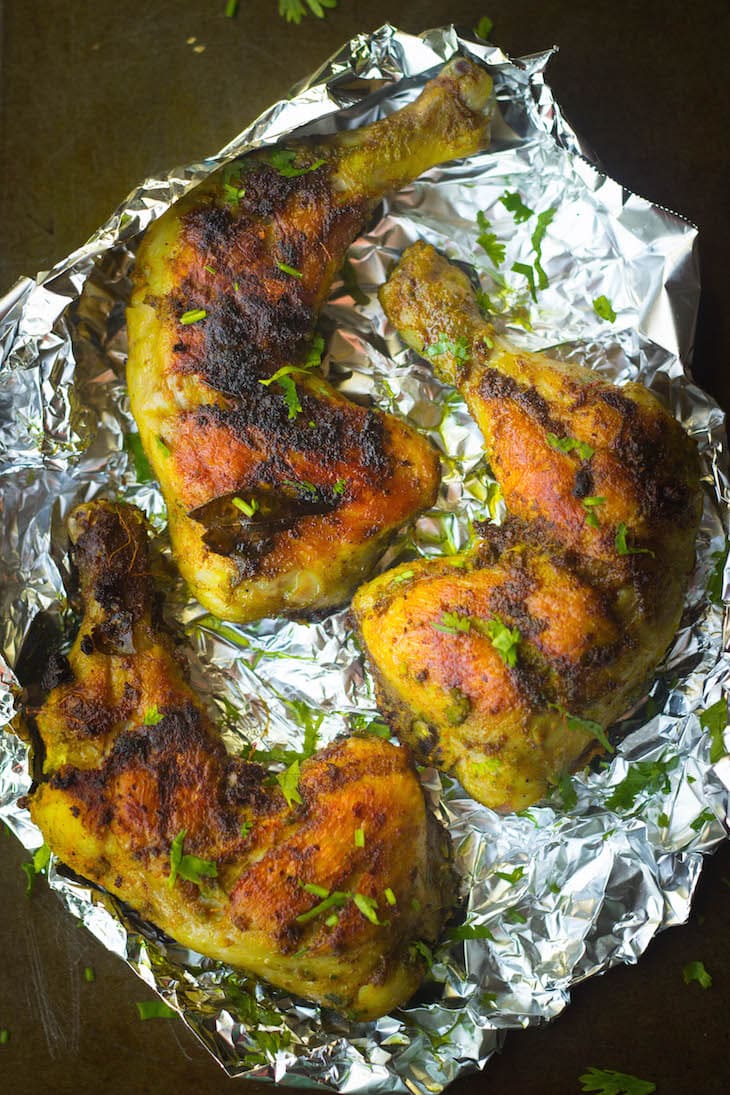 Nivaan has asked me if I can make this chicken every day and he also says this is the best chicken ever 🙂 and I must add that he is a very picky eater.
Having said that, I also make this whenever I am in a hurry. For this chicken fry, you don't have to make masala, saute, or marinate in advance. All you have to do is coat the chicken with basic spices and ground herbs and fry it.
Don't you all agree that nothing can beat the flavor and aroma of freshly ground herbs? So, try to use fresh ginger instead of the store-bought ginger paste, but it's ok if you don't have fresh ginger on hand.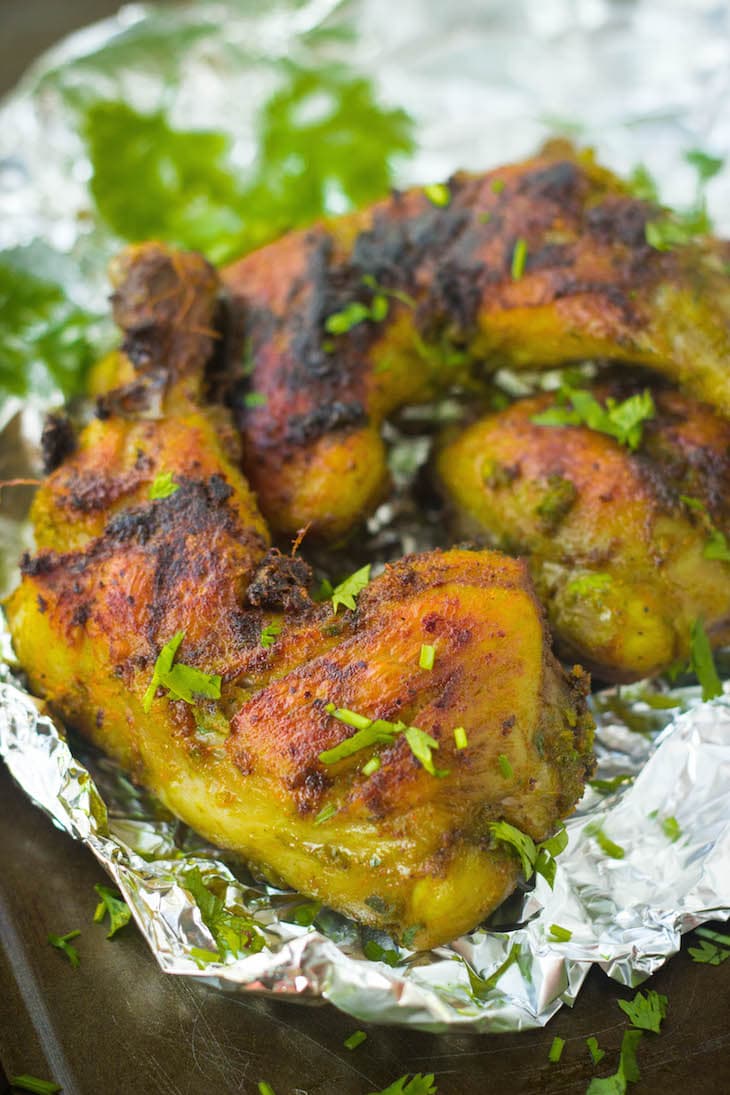 When I say spicy, I don't necessarily mean the heat which most people and kids can't stand. For this recipe, you need garam masala/All-spice mix, pepper powder, and salt. When grinding herbs, you can increase the number of green chilies based on the amount of heat you like. The green color comes from the ground herbs.
Also, it is must to cut slits in the thighs with a sharp knife before you add the marinade. This method helps the spices to get into the chicken and will also help it cook faster.
For this, chicken pieces with bone or thighs are ideal, but you can use chicken breast. Although, the chicken breast may tend to turn rubbery and chewy with this method of frying.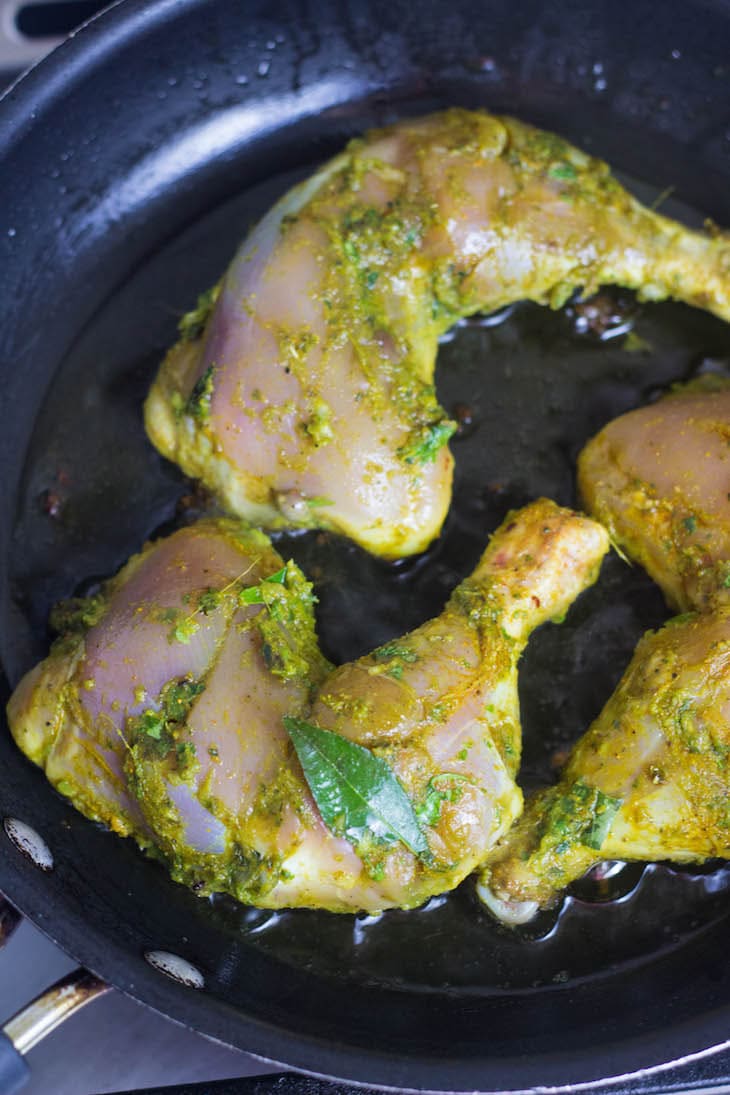 If you are looking for something to go with this, then the rasam | tangy tomato and tamarind soup are a great addition. It is my ultimate comfort food, and I find great solace in it whenever I have fever or cold.
If you are looking for more chicken recipes, then try this spicy dry chicken roast. It will tickle you taste buds.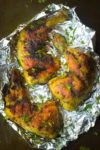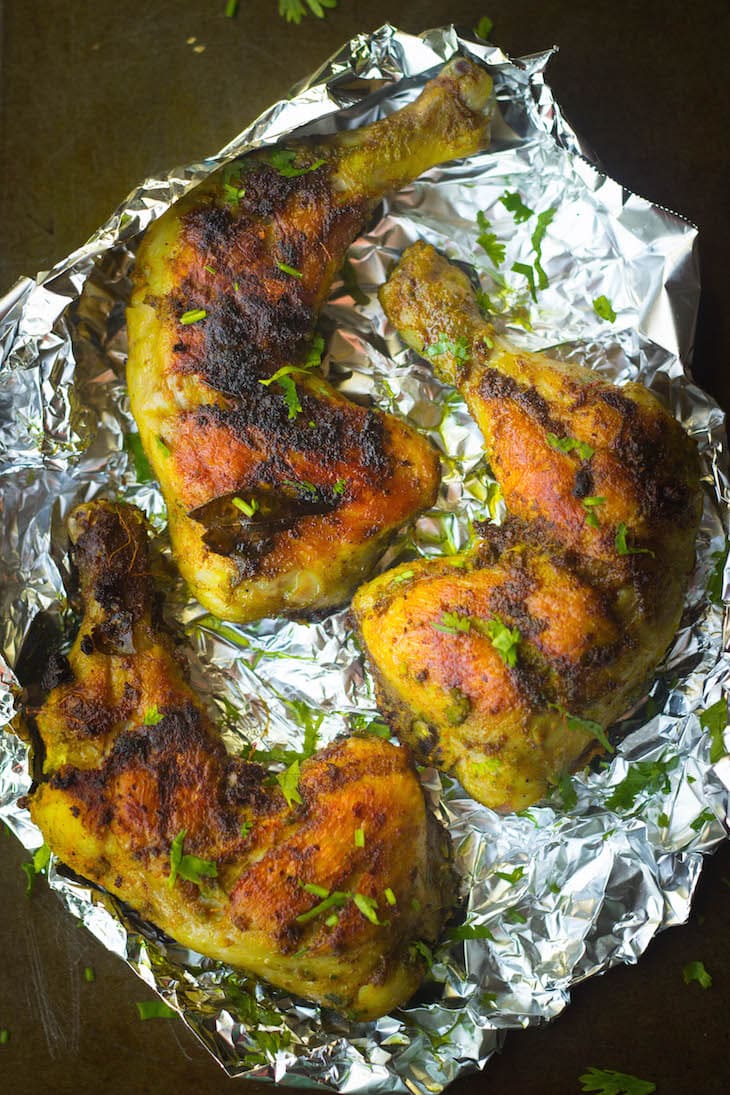 Spicy Chicken Fry | With Spices & Herbs | Under 30 minutes
Ingredients
500

g

chicken thighs

1

teaspoon

chili powder

1

teaspoon

pepper powder

1/2

teaspoon

garam masala powder/All-spice mix

1/4

teaspoon

turmeric powder

1

teaspoon

salt

or to taste

For Grinding:

2

green chilies

You can add more to make it spicier

2

garlic cloves

1-

inch

ginger piece

1/4

cup

cilantro/coriander leaves

8-10

mint leaves

1

sprig

8-10 curry leaves (optional)
Instructions
Wash and pat dry the chicken thighs. Cut slits on the thighs.

Then, add chilly powder + pepper powder + garam masala + turmeric + salt and mix well.

Make a paste of the ingredients under (For grinding) and add it to the chicken. Coat well.

(Additionally, you can cover the bowl and let it sit for 1 hour or more in the refrigerator if you are not in a hurry)

Pour oil into a pan(preferably non-stick) and place on medium-high heat. Pour only enough layer to coat the outer layer of the chicken.

Add the chicken pieces. After 5 minutes, cover it with a lid and turn the heat to low.

Cook for additional 10 minutes. Now, open the lid and turn the heat back to medium-high. Let the water evaporate which was formed as a result of cooking. Once you get the required golden brown crust, flip the chicken pieces and let it cook for 5 -10 minutes.
Recipe Notes
If you want a golden brown crust, let the chicken cook on long heat for longer after you remove the lid. This slow cooking helps to form a golden brown crust without blackening.