The vegetarian Thai curry recipe is the perfect comfort food. It is quick and easy to make. Moreover, the Thai red curry paste and the coconut milk is the perfect flavor pairing. A step-by-step recipe with images.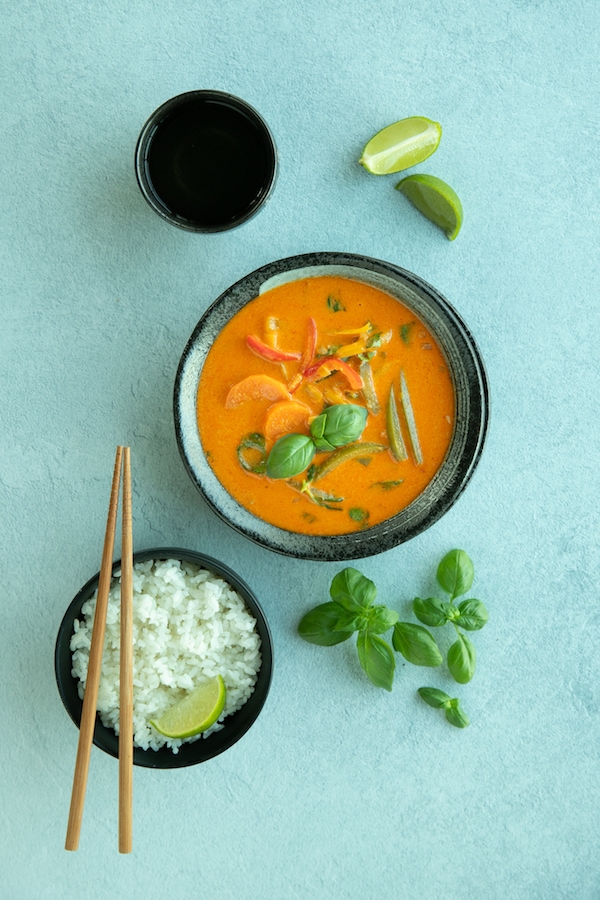 Looking for a best Thai curry recipe that can not only tantalize your taste buds but also surprise you with its rich flavors?
We have just the perfect recipe for you and your loved ones.
Without a doubt, this Thai vegetarian curry dish is a perfect choice for the weeknights because it is so easy to make.
This vegetarian Thai curry with coconut milk can be enjoyed best with brown or white rice.
However, for people who are looking for something diverse and want to add proteins in their diet, it would be a great idea to try the equally delicious salmon curry with coconut milk, clam curry with coconut milk or chicken tikka masala [ Video Recipe].
Enjoy a spicy, healthy and delicious Thai curry recipe, that is packed with tons of flavors.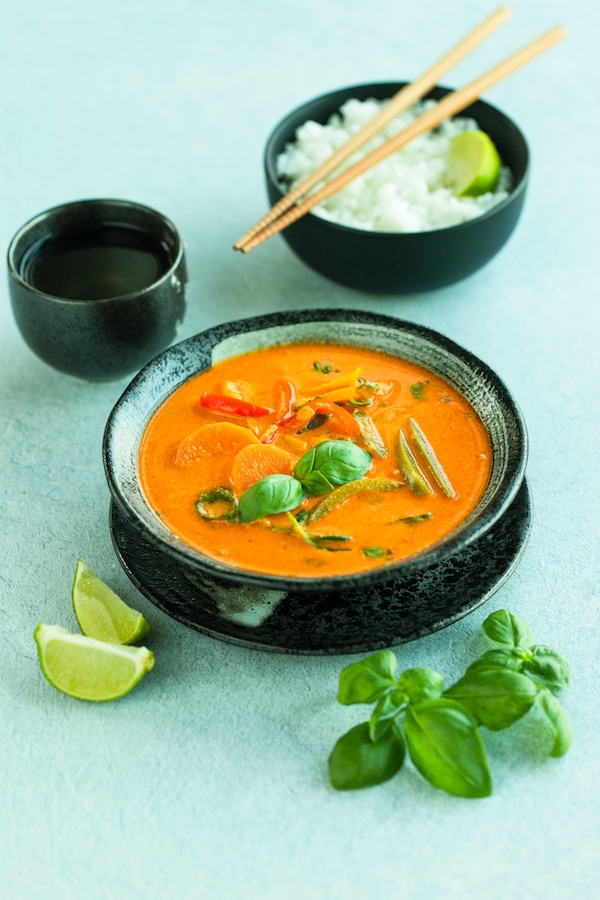 Tips to remember when making Thai curry:
Use aromatics, like onion, ginger, and garlic to make delicious curries, since a deep flavor is imparted.
Coconut milk is the basis of Thai curries. Choose full-fat or organic coconut milk.
If you are looking for a variation in your recipe, change the vegetables. You can try broccoli, cauliflower, mushrooms, diced butternut, sweet potato, sliced zucchini, and even yellow squash.
This special Thai curry recipe will be a real treat for all the vegetarian lovers out there. Make sure that the vegetables being used are uniformly cut into small pieces.
Thai red curry paste:
Thai red curry paste adds a characteristic Thai flavor to the curry. You can either use homemade or store-bought red curry paste.
Homemade Thai red curry paste is quite easy to make. Give your chicken, shrimp or mussels a Thai taste and get ready to be blown away by its unique and rich flavors.
However, if you are looking for a curry sauce, just add 1 can of coconut milk and process in a food processor for uniform consistency.
Storage of Thai red curry paste:
Ready-made or store-bought red curry paste can be stored in the refrigerator. However, once it is opened, you can use it for up to six weeks.
Curry paste can be easily frozen by placing 2-3 tablespoons into plastic ice-cube trays. When cubes are firm, remove them from the tray and wrap tightly in a plastic wrap.
Frozen curry paste can be stored for up to three months.
You can also try out my Thai inspired yellow curry recipe and you will definitely crave more.
So get your hands on this super-easy recipe and enjoy this rich, aromatic and creamy curry to the fullest.
Garnish the vegetarian Thai curry with basil leaves or cilantro and serve with rice of your choice.
Try out this healthy vegetarian Thai curry recipe in your kitchen today, as it is a far more healthy and tasty option to have than eating out in a restaurant.
P.S: THIS WEEKS BLOGGING TIPS
Check out the beautiful collection of food photography resources at weeattogether.com.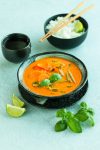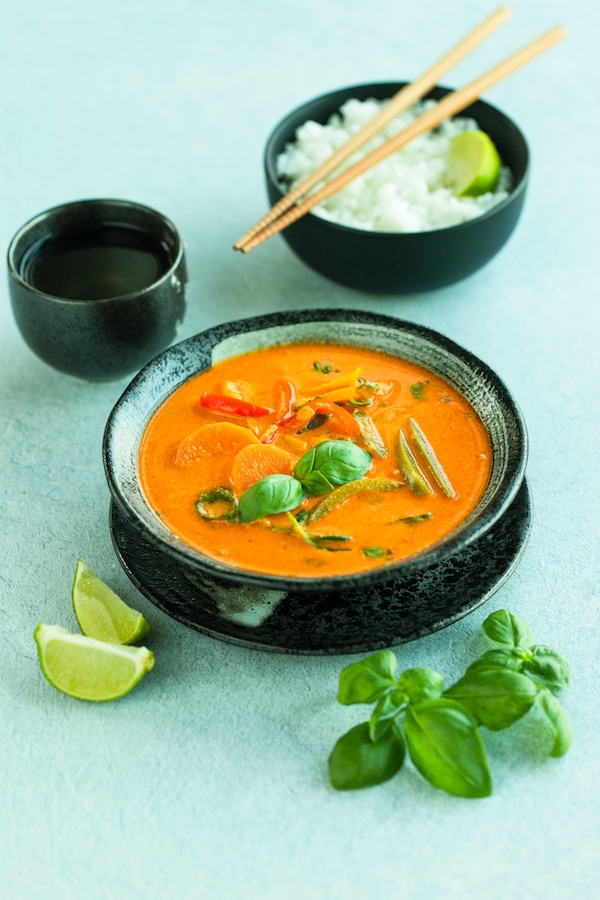 Vegetarian Thai Curry Recipe
The vegetarian Thai curry recipe is the perfect comfort food. It is quick and easy to make. The curry paste and the coconut milk is the perfect flavor pairing.
Keyword:
vegetarian thai yellow curry recipe
Ingredients
2

tablespoons

coconut oil

1/2

white onion

finely chopped

2

cloves

garlic

finely chopped

1

tablespoon

ginger

grated

2

carrots

diced

1

red bell pepper

julienne

1

green pepper

julienne

1

yellow or orange pepper

julienne

2

tablespoons

red curry paste

store-bought or homemade

2

cups

400ml organic coconut milk

1/2

cup

water

1

cup

basil leaves

roughly chopped

1/2

tablespoons

brown sugar

1

teaspoon

soy sauce

1 to 2

teaspoons

lemon juice

Garnish: Basil Leaves or cilantro
Instructions
Place a deep pot on heat and add oil.

Once the oil is hot, add ginger and garlic and sauté for a few seconds. To this, add onions and cook until translucent.

Add the Thai curry paste + 2 tablespoons coconut milk and fry till oil separates. Sprinkle a few drops of water if the mixture tends to get dry.

Now add the carrots +bell pepper + salt and mix well. Let it cook till the carrots are almost cooked.

Pour the coconut milk + water and add the sugar and mix. Let it simmer for about 5 to 10 minutes. Stir occasionally.

Turn off the heat and add fresh lemon juice and soy sauce. Taste and adjust the flavor as needed.

Add the roughly chopped basil leaves.

Transfer the curry into individual serving bowls and serve with sticky rice or any rice of your choice.