The year 2013 turned out to be good. I launched this blog, which I was working on for quite some time, spend time with my family and friends, visited India and spent a good 3 1/2 months covering 5 Indian states. I also spend a week in Bhutan and experienced the beautiful, pristine mountain country on the foothills of the Himalayas, and after all that, was back home in Orlando just in time for Christmas. Speaking of resolutions, I did complete a few of them on my list . Time to start working on the new ones.
Life was good and I am hoping that next year will be filled with lots of good surprises as well.
Wishing my readers a Very Happy and Prosperous New year. Hope you continue to visit my blog.
Buddha, The Stupa (a Buddhist Shrine) with the beautiful Himalayan mountain ranges in the background and the prayer wheel – In Bhutan.
Lets start the new year with a healthy twist to dessert. Bringing you a moist whole wheat carrot cake from a good baker friend of mine. Thank you Jagritee for this awesome recipe.
Other Whole wheat options:
Pumpkin bread
Sweet potato rolls
Banana bread
Honey Whole wheat bread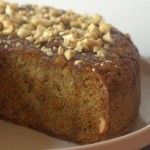 Wholewheat Carrot Cake – Lets start the New Year with a healthy twist
Cake Recipe courtesy: A good friend and an awesome baker, Jagritee Sharma.
Ingredients
2

cups

230g whole wheat flour

1 1/2

cup

300g white sugar

2

teaspoons

baking soda

2

teaspoons

baking powder

1/2

teaspoon

salt

2

teaspoons

vanilla extract

4

eggs

1 1/4

cup

140g melted butter + 3 tablespoons vegetable oil or (3/4 cup(180ml) oil + 1/2 cup(120ml) applesauce)

1/4

cup

milk

3

cups

grated carrot

About 5 medium carrots

2

teaspoons

cinnamon

optional

1

cup

chopped pecans or cashews or walnuts

1/2

cup

raisins

optional

FOR RUM OR VANILLA SYRUP:

Completely optional Try this on Rum Cake.

1/4

cup

butter

1/4

cup

brown sugar

3

tablespoons

sugar

1

teaspoon

vanilla extract or 1 tablespoon rum
Instructions
Mix one tablespoon of sugar with the grated carrots and keep aside.

Preheat the oven to 350 degrees Fahrenheit/175 degrees Celsius. Grease and flour a 8*3 inch cake pan.

Whisk together whole wheat flour + baking soda + baking powder + salt and keep aside.

In a large bowl beat together butter + oil + eggs + sugar + milk + vanilla extract. Add the flour and the cinnamon and mix well. Squeeze the water from the grated carrot with both your hands and add to the batter. Throw in the nuts and raisins and mix well.

Bake for 55 minutes or until a skewer inserted in the center of the cake comes out clean.

RUM SYRUP: Bring all the ingredients of syrup, except vanilla or rum to a boil. Turn down the heat and let it simmer for 5 minutes. Take it off the stove and let the mixture cool for some time. Poke lot of tiny holes on the cake. Pour the warm sauce over the cake.
Recipe Notes
Alternately 2, 8*2 inch or 1, 9*13 inch cake pans can be used. Baking times will vary.
For a more healthier version as in the original recipe, substitute 3/4 cup oil + 1/2 cup applesauce for butter.