This Step-by-Step HOMEMADE RED LOBSTER CHEDDAR BAY BISCUIT RECIPE is quick, easy to follow and will be ready under 30 minutes.  It's garlicky, flakey and hard to resist.
Blogging Tips below every recipe!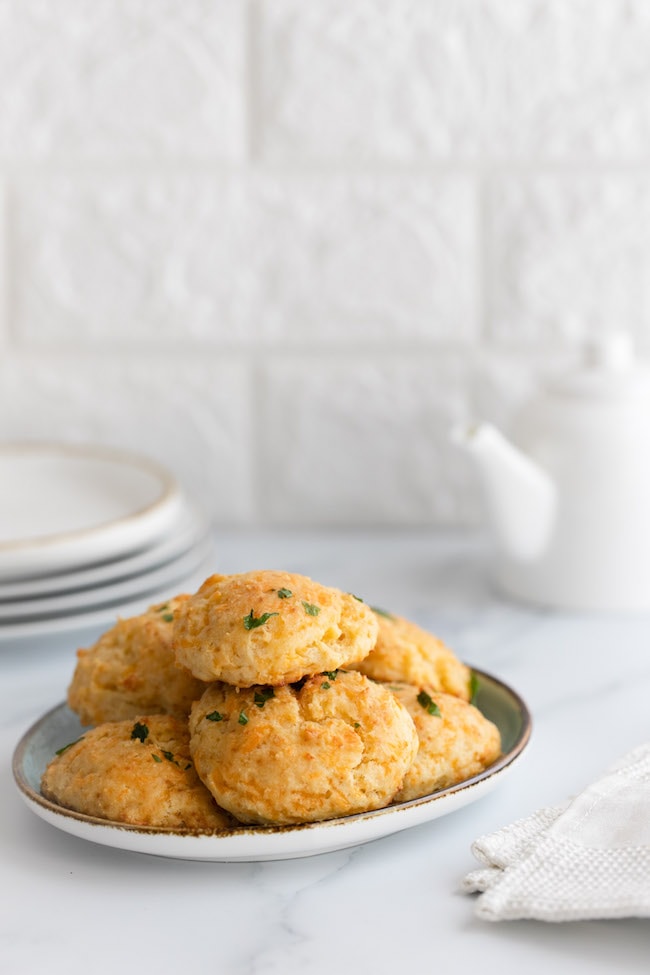 These homemade red lobster cheddar biscuits are irresistible and delicious.
Red Lobster is one of my favorite seafood restaurant chains. Apart from their lobster bisque, the cheddar bay biscuits are the most loved dish on the menu.
Moreover, this restaurant serves an incredible amount of almost 1.1 million of its famous Cheddar Bay Biscuits every day.
However, their recipe remains a well-kept secret until today. Many people have tried finding the replica of the original.
This recipe tastes and looks a great deal like the original.
In less than 30 minutes, you can create these amazing biscuits with the help of just four main ingredients. Moreover, you can enjoy these delightful biscuits for breakfast, lunch and even dinner. You can even store them for later use.
The best part about these red lobster cheddar bay biscuits is that it does not require any kneading or rolling.
Simply mix all the ingredients together and place them on a baking sheet.  You will end up with the most delicious and fluffy biscuits that you have ever tasted.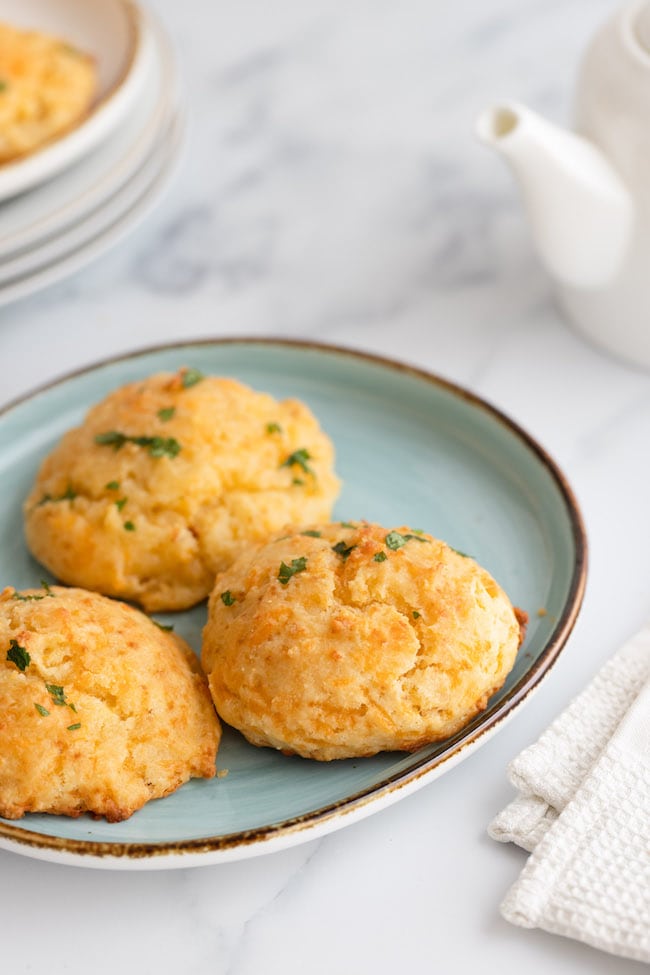 Main Ingredients of Biscuits
The key ingredient of these cheddar biscuits is all-purpose flour. Before using the flour, place it in the freezer for half an hour and then use it. You will great results with this simple trick.
However, for people who have a gluten allergy, there is no need to miss out on these delicious biscuits. You can still eat these biscuits by substituting it with gluten-free flour. Then follow the rest of the recipe as before.
Baking powder is another ingredient of the cheddar bay biscuits. It is because of baking powder that the biscuits get that fluffy texture, as it makes the dough to rise. 
This happens because the baking powder helps to lighten the texture of biscuits by increasing the size of the trapped air bubbles in the dough.
Otherwise, your biscuits will turn out to be hard instead of being light and fluffy.
Therefore, it is quite important to check if the baking powder you are using is fresh or not. Simply, mix a teaspoon of baking powder into a cup of hot water.
If the baking powder is fresh, you will immediately see bubbles being formed. If no bubbles are formed, you will need to replace it with a fresh one.
Buttermilk acts as a tenderizer and moistener in the baking process. It will help to create the most tender biscuits.
You can also use a substitute for buttermilk. Take ½ tbsp of plain vinegar or lemon juice and add ¾ cup of 2% milk. Stir it well and then let it rest.
For light and flaky biscuits, always use cold butter. This is because when the butter melts on baking, little pockets of air are created as steam is released.
This results in the biscuits being airy and flaky while remaining crisp on the outside.
Another thing to remember is to use unsalted butter. Since these biscuits are already salty, due to the use of cheddar cheese, you do not want to overdo it by using salted butter.
This could prove to be important especially if you are watching your salt intake.
Garlic powder is used in the biscuit's dough and some of it is also brushed on the top of the biscuits to achieve that golden color.
The garlic powder provides a unique
flavor to the biscuits.  This combination of garlic and cheddar is a
ctually what 
sets these apart from the rest of the biscuits.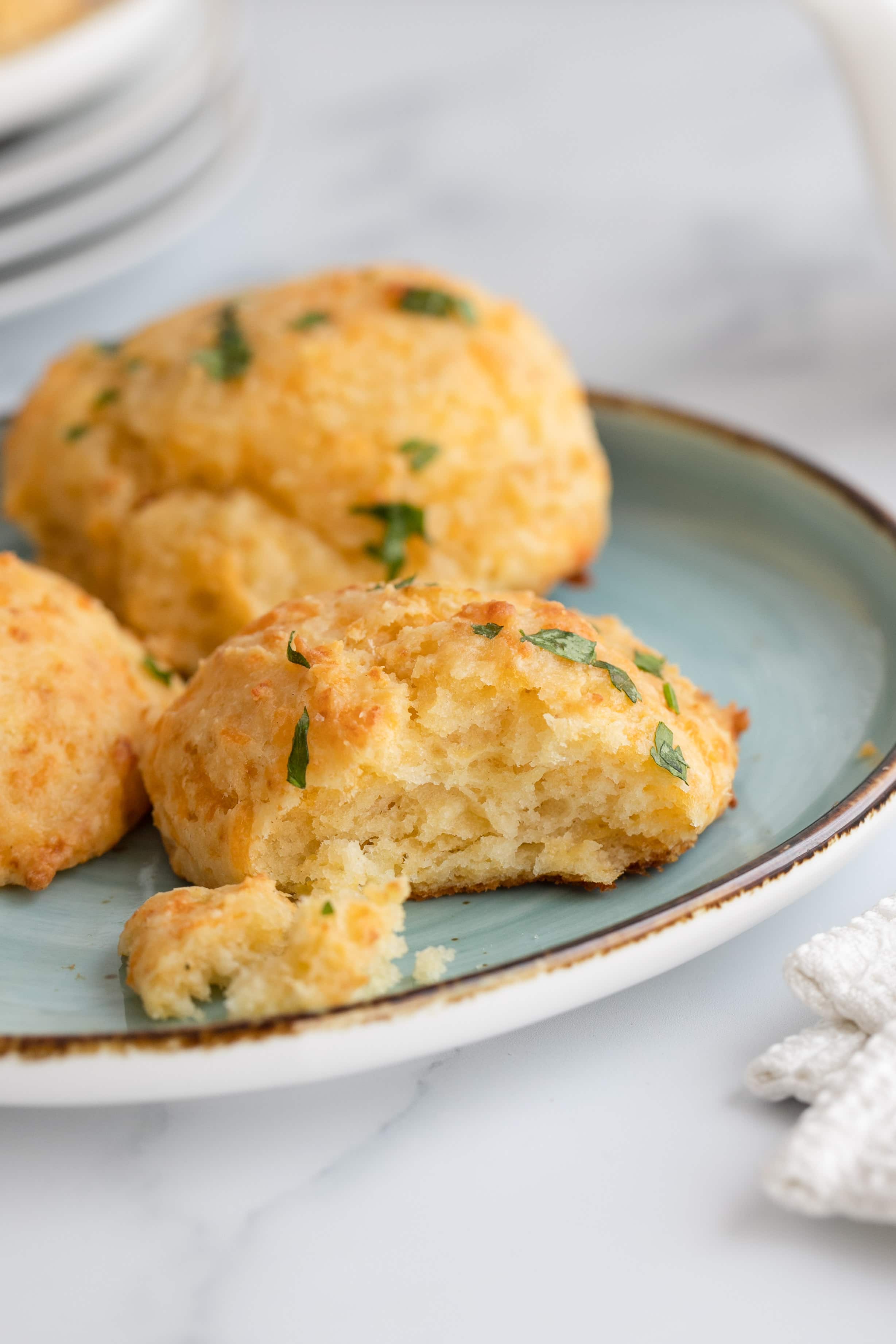 Storage of Cheddar biscuits
You can make them in batches and store them for future use. Cheddar bay biscuits can be stored in a refrigerator for up to 3 days in an air-tight container.
Simply preheat oven to 400°F and bake for 10 minutes. You will get biscuits that will be just like freshly baked ones.
If you were planning to stick to your diet then you are definitely mistaken. I am quite sure that you will not be able to practice any self-control before you devour a couple of them.
Do not wait another moment to embark on this unique culinary adventure and surprise your loved ones with these incredible red lobster cheddar biscuits.
P.S: This Weeks blogging tips
Here is a great resource catered to various photography niche karltayloreducation.com.
P.s: It is not an affiliate link which means I do not get paid if you sign up for their courses.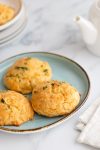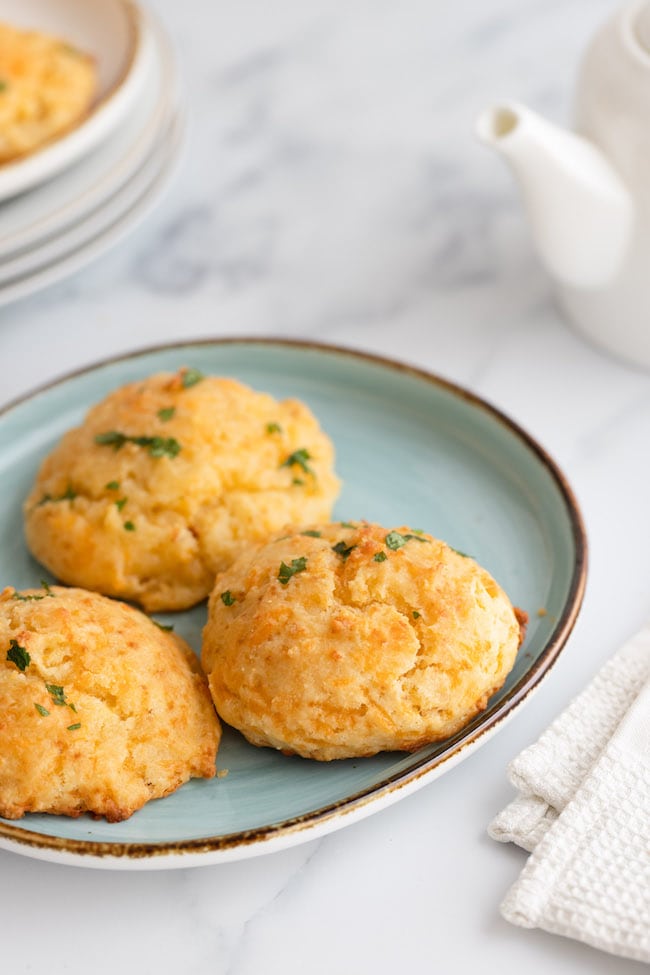 Homemade Red Lobster Cheddar Bay Biscuits
This homemade red lobster cheddar bay biscuit recipe is quick, easy to follow and will be ready under 30 minutes. It is irresistible and delicious.
Keyword:
biscuit recipe,, homemade red lobster cheddar bay biscuit recipe, red lobster biscuit recipe
Servings
:
1
dozen biscuits
Ingredients
2

cups

or (240gms) all-purpose flour

2

teaspoons

baking powder

1/2

teaspoon

baking soda

1/2

teaspoon

salt

1/2

teaspoon

garlic powder

1/2

cup

or (113 g) cold butter

unsalted, cut into small pieces

1

cup

sharp cheddar cheese, shredded

3/4

cup

buttermilk, cold

Please refer notes for substitutes

Topping:

3

tablespoons

melted butter

1/2

teaspoon

parsley

fresh or dried

1

teaspoon

garlic powder
Instructions
Preheat oven to 400 degrees Fahrenheit or 205 degrees Celsius. Line a baking sheet with parchment paper.

In a bowl, whisk together the flour + baking powder + baking soda + salt + garlic powder.

Add butter and fold in with your fingers or pastry cutter until slightly crumbly. Alternately you can also use a food processor.

Now add the cheddar cheese and buttermilk and mix gently until combined. Do not overmix.

Using an ice cream scoop transfer onto a baking sheet.

Bake 14 - 16 minutes or until golden around the edges.

Meanwhile, in a small bowl, combine melted butter + dried parsley and garlic powder. Alternatively, for more golden brown color, you can take the biscuits out at the end of 10 minutes, brush it with butter and put it back in the oven for additional 4 to 6 minutes.

Remove the biscuits from the oven and brush butter over the biscuits. Serve warm.
Recipe Notes
Can be stored in an airtight container in the refrigerator for about 3 days.
For reheating, preheat the oven to 400 degrees Fahrenheit or 205 degrees Celsius and bake for 10 minutes. Will taste as good as freshly made.
For Buttermilk substitute:
3/4 cup of buttermilk:  Add 1/2 tablespoon of plain vinegar or lemon juice. Fill the remaining 3/4 cup with milk. Stir and let it rest for 10 minutes.