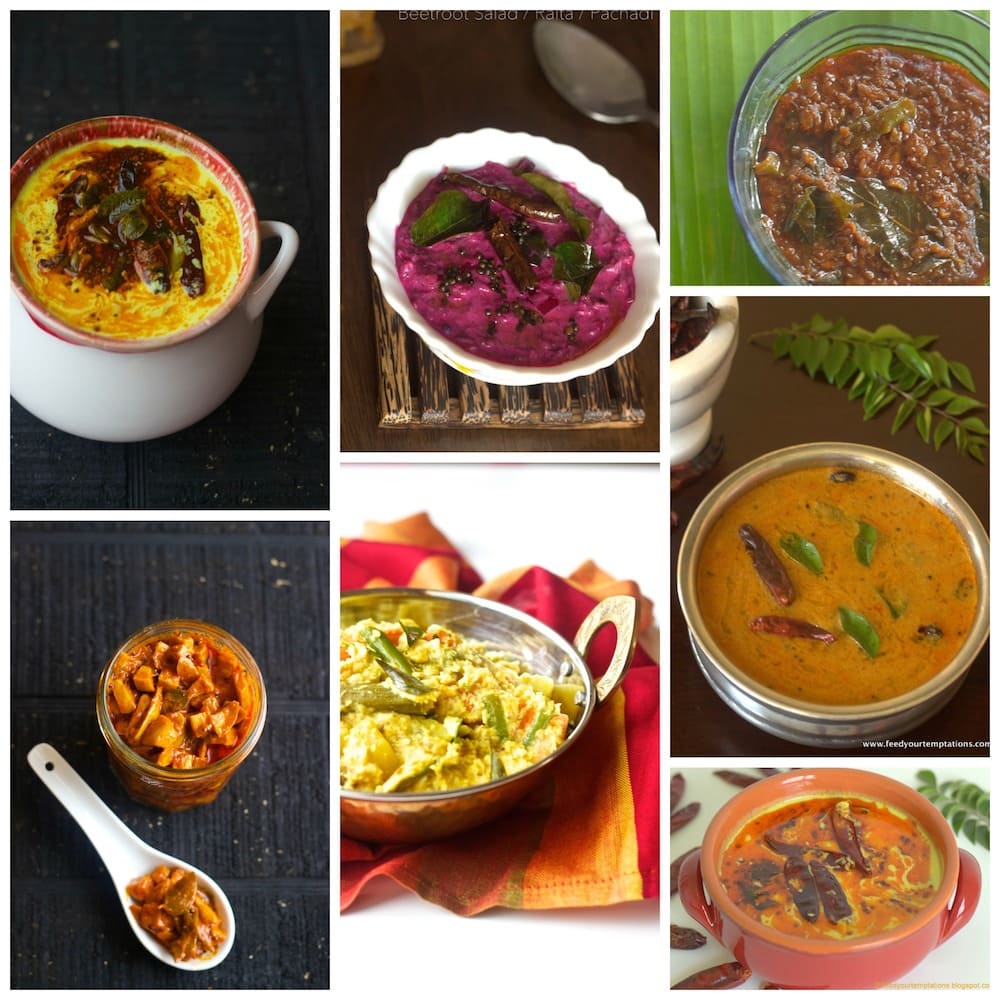 A very Happy Onam to all of you 🙂
Growing up outside kerala, my friends have always wished me Onam and have asked me the significance of the same. Over the years I have seen that my non-mallu(people from kerala) friends are more keen about the traditional curries like moru curries and sambhar, to name a few.  Feedyourtemptations.com is beyond boundaries. Its about good food, favorite curries and baked goods which people of every culture enjoy equally.
Onam is a rice harvest festival celebrated in the southern state of India (Kerala). It normally falls between August-September. Its is a festival which is celebrated beyond cast and creed and which every malayalee (people of kerela) celebrates. Its typically a 10 day celebration when schools have holidays. The last day Tiru Onam being the most important day. In 2014, Tiruonam falls on September 7.
The Old times:  Traditions are fading: Onam is one of the my moms most cherished memories. When she narrates, the smile on her face is a confirmation of the wonderful times. The swing in the backyard, the pookolam (floral carpet), an extravagant meal from scratch. Times have changed. Now restaurant offers takeouts and you can reserve your table for family. Percentage of people cooking at home and having get-togethers have reduced.
The significance: It is believed that, on this day, the great and beloved ruler King Mahabali, comes from the nether world to see his people living happily. Mahabali's era was considered as the golden era of kerala.
Pookalam (A floral decoration): A floral pattern is created with leaves and different flowers outside the main door and often a lit lamp is placed in the center.
Other activities: Tiruvathirakali is a women's dance performed in a circle around the lamp. Pulikali is dance where people paint their faces resembling tiger. Boat race is another event which is very famous.
Onam Sadhya (The feast): Its a grand and strictly vegetarian feast served on plantain leaves which is again traditional to the state. Yeah the only day the non-vegetarian loving mallus  have all vegetarian meal :). As much as 13-15 curries or more are served along with papadam (traditional chips made of lentils).
Moru curry(Kadhi)(Yogurt curry):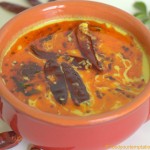 Moru curry with winter melon/kumblanga: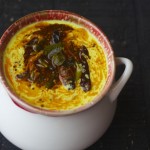 Beet pachadi (Beets and yogurt):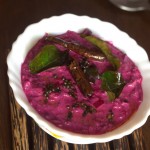 Kerala style Sambhar (Lentil curry with coconut)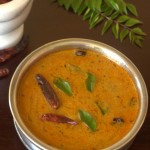 Puliingi (Sweet and tangy ginger chutney)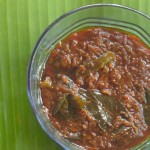 Aveal (Vegetable and yogurt curry)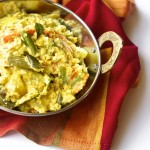 Kadumango (Raw mango pickle)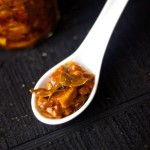 Thoran(Vegetables with coconut), Olan, Mezhukkupuratti (Vegetable stir fry), daal/paripu/lentil curry, Papadam (lentil chips), Payasam (Dessert normally made of lentil), lemon/Naranga pickle are few of the other sides.