A friend was in a mood to have a pineapple upside down cake, but an eggless one. When I combined the goodness of pineapple and an eggless cake, this was the outcome. This cake although eggless, is really moist, because of the reaction of vinegar and baking soda, which gives it the airiness.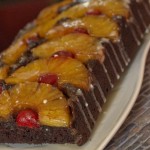 Eggless chocolate pineapple upside down cake
Cake recipe adapted from:
simplyrecipes.com
Variation: This was a eggless chocolate cupcake recipe.
Ingredients
FOR CHOCOLATE CAKE:

1 1/2

cups

180g all purpose flour

1/4

cup

25g unsweetened cocoa powder

1

cup

200g granulated sugar

1

teaspoon

baking soda

1/2

teaspoon

salt

1

cup

240mlwarm water

1

Tbsp

white vinegar

1

teaspoon

vanilla extract

6

Tbsp

1/4 cup plus 2 Tbsp (60ml + 2tbs) olive or vegetable oil

FOR THE GLAZE AND DECORATION:

1/4

15g cup brown sugar

5

pineapple slices

cut into half (If using round pan, click here to see arrangement)

5

red cherries

also cut

1/2

cup

powdered/ confectioners sugar

2-3

tsp

reserved pineapple juice

other juice or water
Instructions
Preheat oven to 350 Degrees Fahrenheit or 175 Degrees Celsius. Grease a loaf pan or round pan.

Sprinkle brown sugar on the pan. Arrange the pineapple slices and place cherries. Keep aside.

In a large bowl, vigorously whisk together the flour + cocoa powder + sugar + baking soda + salt until there are no visible clumps.

In a separate bowl, mix together warm water + vinegar + vanilla extract + olive oil.

Pour the wet ingredients into the dry ingredients and stir only until they just come together. The mixture should be thin and rather lumpy.

Pour the batter into the cake pan. Place in the center of the oven and bake for 35 minutes or until skewer inserted in the center comes out clean.

Remove from oven and let cool in the pan for 5 minutes, then remove from pan and place on the cooling rack. Once the cake cools completely pour pineapple glaze.

For pineapple glaze. Add pineapple juice a teaspoon at a time to the confectioners sugar and mix well until no lumps remain and a thick but pourable consistency is achieved.
Recipe Notes
This is not a tall cake, but if you want a taller cake, double the ingredients. Baking time could take anywhere from 55-60 minutes.
A simple idea: For double layer, bake two cakes and sandwich with you favorite icing.(This is only a reference. The quantity of the icing ingredients will vary for this cake.