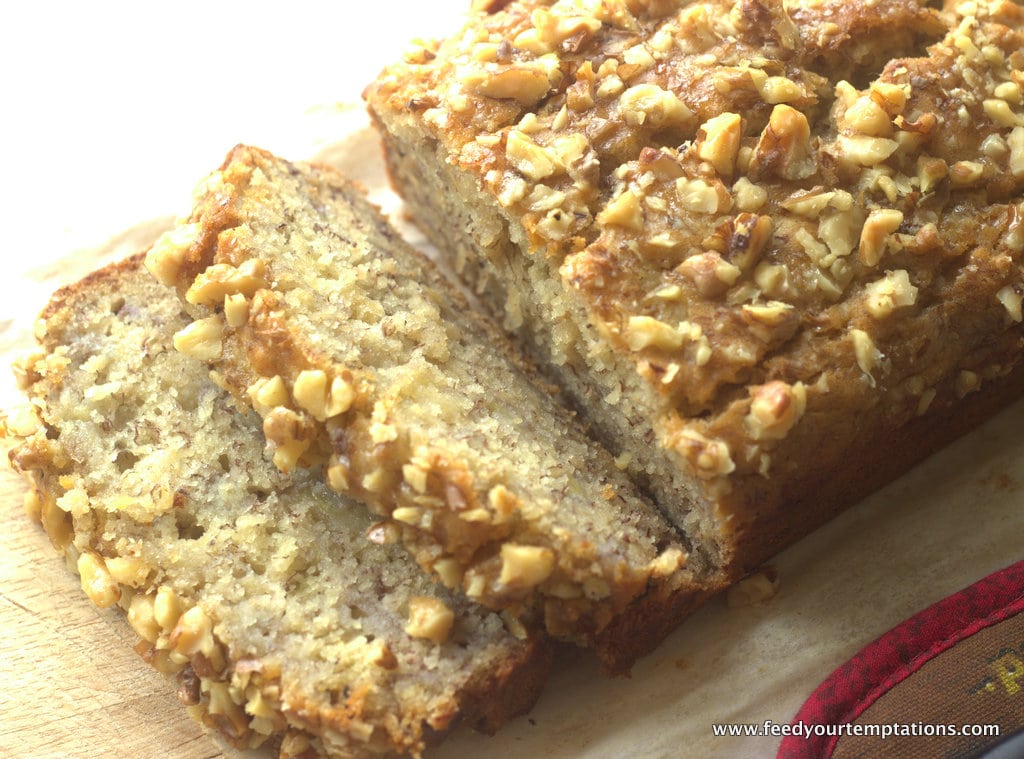 I never thought, I would make an eggless and vegan banana bread. But then again, if you like baking and are used to having baked goods at home, its good to have a recipe like this, for the times when a vegan or vegetarian friend visits you. This recipe was given to me by a vegan friend and I must say, its a good one. Its incredibly moist even without adding eggs. Regular Banana bread with egg, yogurt /creme fraiche and chocolate chips makes a lovely combination too.
Now that I mentioned Creme fraiche, have you ever tried it?. Its fresh cream and its awesome in you baked goods, over a toast and there are so many ways of enjoying it. Not all the stores carry this and its can be expensive too. You can also make creme fraiche at home. Its takes only 5 minutes to assemble but you will need some hours for fermentation. Homemade creme fraiche and mangoes can be combined to make a delicious eggless mango ice-cream.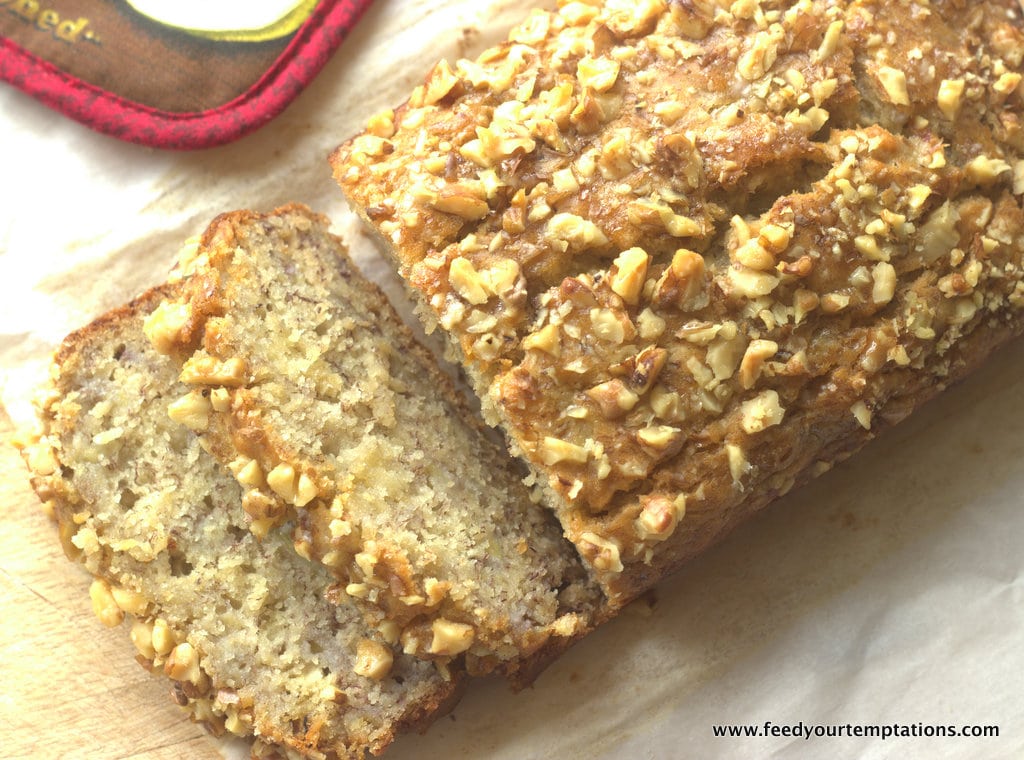 After my slight deviation, now back to banana bread. Look at the soft and moist inside. This quick bread gets enough sweetness from bananas and maple syrup without adding too much sugar. Next time I should try this with whole wheat. A white whole wheat flour will be a good idea. Its lighter than the regular whole wheat, has the same nutritional value and substituting half the all purpose flour with white whole wheat flour can make this healthier. I found white whole wheat flour in target and you can order it online too. My Apple Cinnamon muffins came out really good and people couldn't even tell, it had whole wheat. Now, that is something to consider:).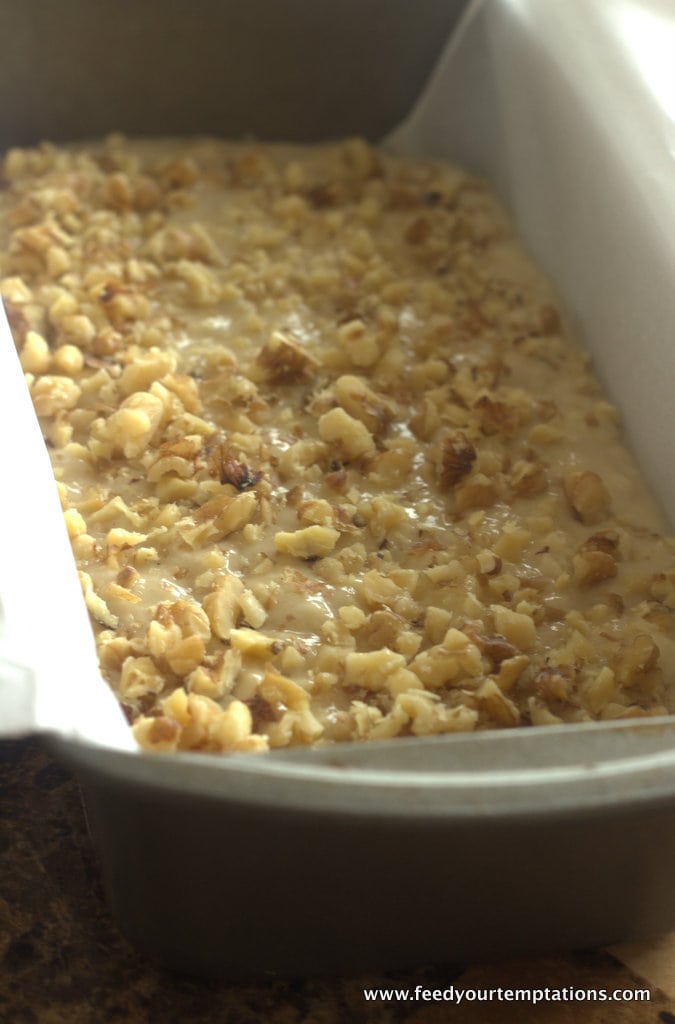 This time I used parchment paper to line one side of my loaf pan and I liked it, the loaf came off easily from the pan, and it did not cave in from the sides. The caving can happen, when you over grease you pan and don't dust it with flour.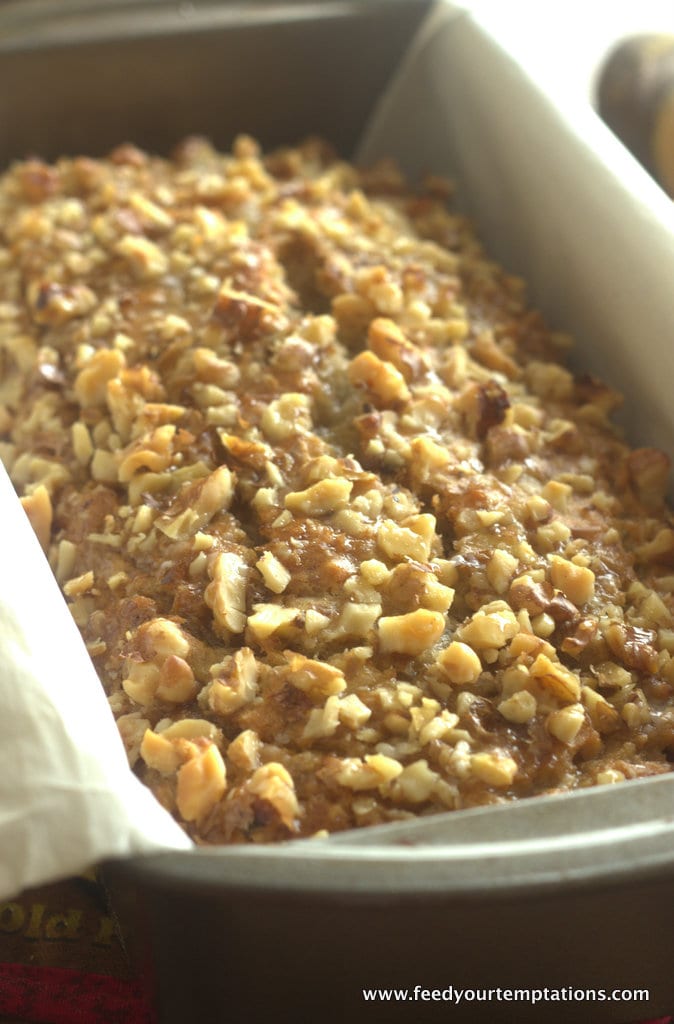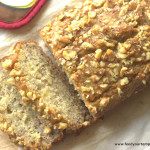 Vegan Banana Bread
Ingredients
2

cups

240g unbleached All purpose flour

1

and 1/2 teaspoon baking powder

1/2

teaspoon

baking soda

1/4

teaspoon

salt

1/2

cup

120ml canola oil

1/4

cup

50g sugar

1/4

cup

60ml soy milk (substitute: regular milk)

1/4

cup

60ml maple syrup

1

teaspoon

vanilla extract

3

large ripe bananas

1/2

cup

chopped walnuts

ORANGE GLAZE:

Optional

1/2

cup

65g confectioners sugar

1

teaspoon

orange zest

2

tablespoons

orange juice
Instructions
Preheat oven to 350 Degrees Fahrenheit or 175 Degrees Celsius. Grease and dust a 9*5 inch loaf pan. You can also grease one side and line the other side with parchment paper

Mash the bananas and keep aside. In a bowl, sift or whisk, flour + baking soda + baking powder + salt.

In another bowl, add oil + sugar and beat well until the sugar dissolves. Add maple syrup + milk + vanilla, mix well. Add bananas to the oil mixture and mix again.

Add the dry ingredients to the banana and oil mixture and mix with a spatula or spoon only until combined.

Bake this for 40-50 minutes or until a wooden skewer inserted in the center of the bread comes out clean.

Pour the orange glaze over the hot loaf and let it stand for 5-10 minutes before transferring onto a wire rack.

FOR ORANGE GLAZE:

Mix sugar + orange juice + orange zest.
Recipe Notes
Thank you Vineeth for the recipe.
Want access to more vegan recipes? check the vegan community on google.