The illusion cake | gravity-defying cake is an excellent idea for a kid's birthday party. You can also create gravity-defying cakes for grown-ups.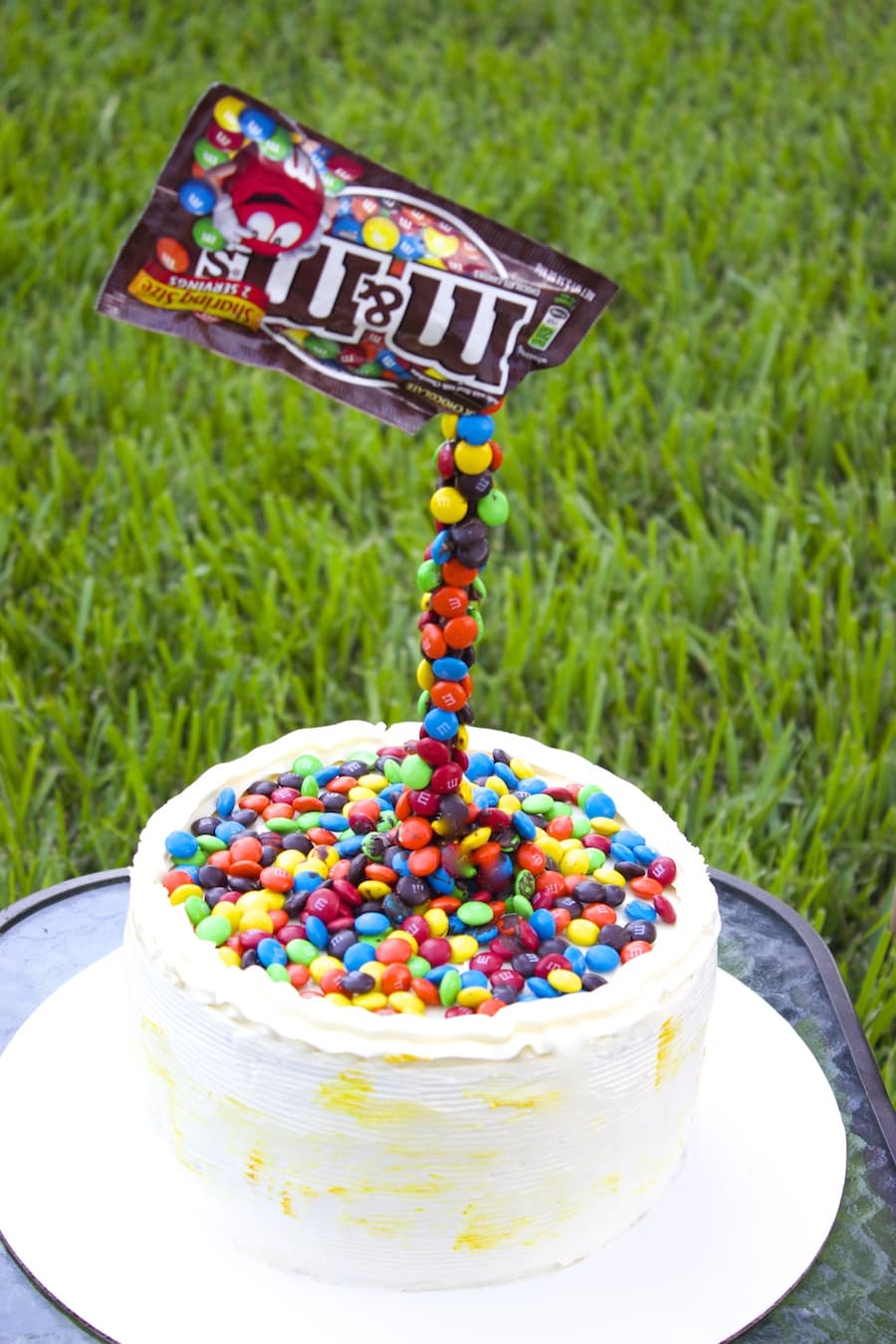 The M&M illusion cake with swiss meringue buttercream | gravity defining cake will bring a smile on your Lil ones face, and the swiss meringue frosting is something that everyone will love.
My Lil one turned 4 last week, and all of you who have kids know how time flies. I told Nivaan, 'Sweetheart, you turned 4 today', and he says,' I want to be three again, mommy.' Aww, only I wish. When I look at his old pics, I often wish if I could hold time still. My mom always stays, 'I wish you could stay small all the time.' I know you are proud to see your kids grow and become independent, but somewhere in the corner of your heart, you think, pretty soon, they won't need you anymore.
It's the 3 rd year I baked his cake. For his 2nd birthday, I baked a super moist chocolate cake and decorated it with everything my son was fond of at that time, and for his 3rd, It was a blue cho cho train. This year it was the dino cake and illusion cake. M&Ms and kids' birthday cakes always go together.
If you are looking for simpler cakes, then try the pineapple upside-down cake (video recipe),  the best red velvet cake, or the beautiful black forest cake.
For tea time cake, check out the soft and buttery marble cake recipe.
This post is about 4 things: an m&m illusion cake, chocolate marble cake, 4 layer cake, and swiss meringue buttercream. Swiss buttercream is light and creamy, almost like a whipped cream except that it's more stable when used to ice and decorate a cake. It also has a slight tang like the cream cheese frosting. It's less sweet than a traditional American buttercream, which involves only butter and sugar. Its a non-crusting frosting and good to be used below fondants.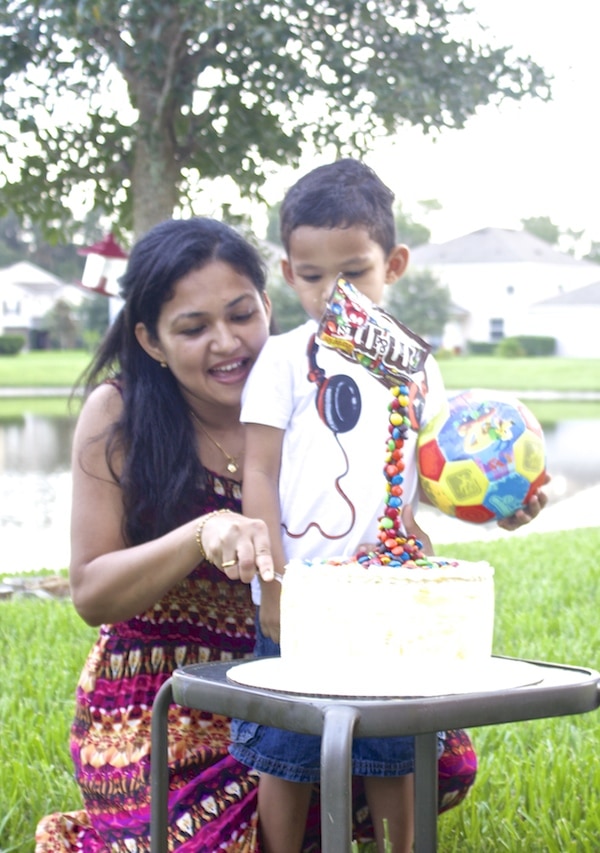 When I was surfing for kids' birthday cake ideas, Nivaan was next to me, and the moment he saw this style, he said he wants an m&m cake. I have seen illusion cakes floating on the Internet for quite some time, and I liked the idea but never thought I would be making it so soon.
Illusion cake ideas:
You can use your kid's favorite candies from skittles to gummy bears to anything.
For grown-up anti-gravity cake, you can also show beer cans.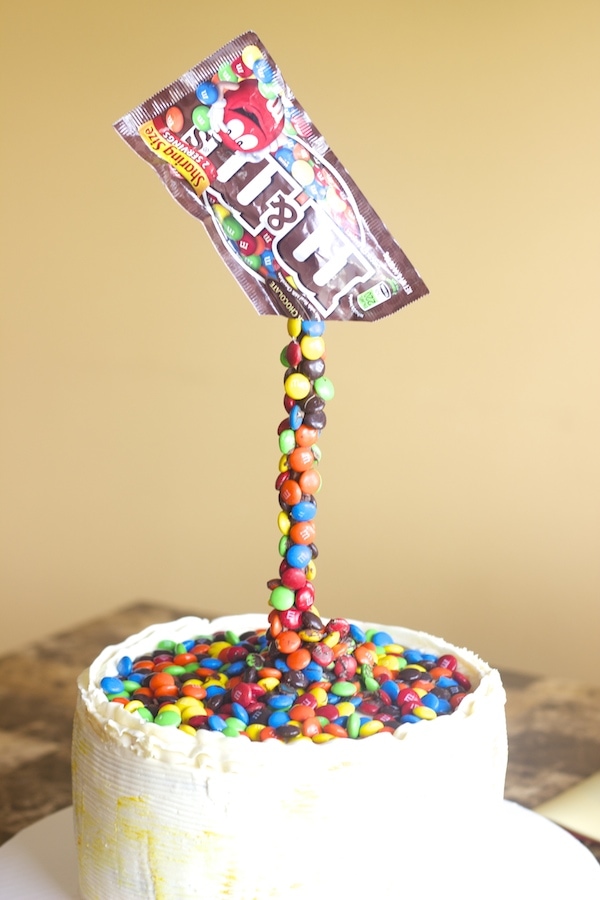 Making a 4 layer cake was only a last-minute thing. I baked 2, 9-inch marble cakes. Staring at it, I thought it wouldn't be tall enough, and it won't yield enough servings. So the easiest cake I could think of at the last minute was the easy chocolate cake.  This cake turned out to be a tall (about 18cms with frosting), but because of 4 layers,  it could be cut into small slices.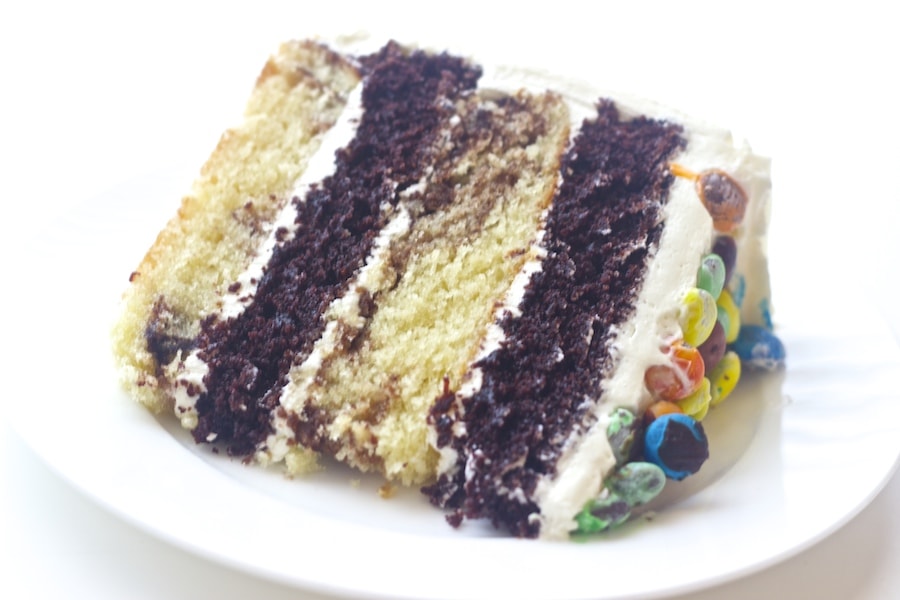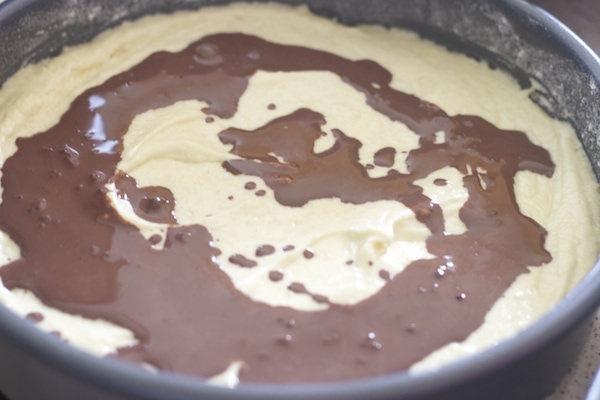 To create a marble effect, create a paste of chocolate and warm milk and pour in a circular motion on the cake. You can also make the marble cake recipe from the blog.
Take a skewer and stir the chocolate in circular motions.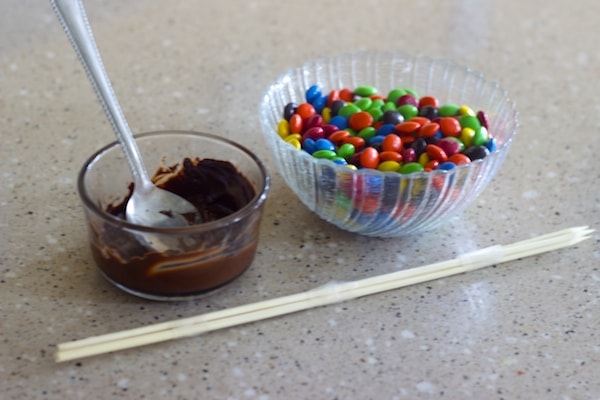 How to make illusion cake?
Step-by-step images
Step1: Tape 3 bamboo skewers together or use anything similar, which will have a surface to hold m&ms. Melt some chocolate over a double boiler or microwave for 30 seconds to a minute.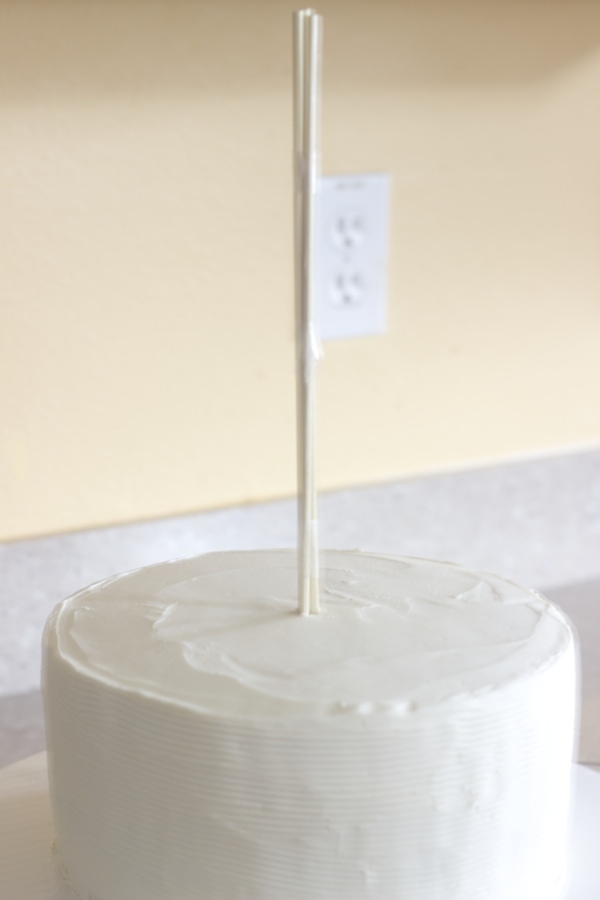 Step2: Insert the skewer into the center of the cake.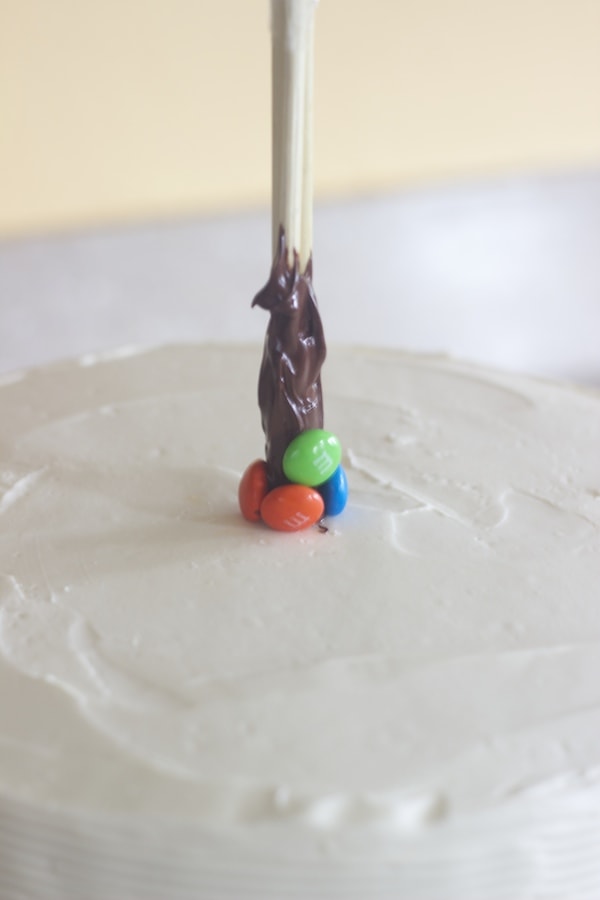 Step3: Apply melted chocolate over the skewer and place m&ms. The m&ms can slip down if the ganache is too runny. In that case, let it thicken slightly before using.
Step4: In the end, place the empty pack of m&m on top. Spread the remaining m&ms on the cake.
Content updated: February 2020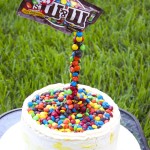 Illusion cake | gravity defying cake | Swiss Meringue Buttercream Frosting
The illusion cake | gravity-defying cake is an excellent idea for a kid's birthday party. You can also create gravity-defying cakes for grown-ups.
Frosting Prep time - 15-30 minutes | 2, layer 9-inch cakes, yields 12 slices | 4, layer 9-inch cakes, yields 20 slices
Keyword:
gravity defying cake, illusion cake, m&m cake
Ingredients
2

and 3/4 cups or (330g) all-purpose flour / maida

3

teaspoons

baking powder

1/2

teaspoon

baking soda

1/4

teaspoon

salt

2

sticks + 2 tablespoons or (226 g + 2 tablespoons) unsalted butter, at room temperature

2

tablespoons

oil

1

and 3/4 cup or (350g) sugar

4

large eggs

2

teaspoons

vanilla extract

1

and 1/4 cup (300ml) whole milk
For Marble Cake:
2

tablespoons

cocoa powder

2

tablespoons

warm milk
Swiss Meringue Buttercream: (Good for 2 layer 9 inch cake)(For 4 layer, double the quantity)
4

teaspoons

meringue powder or 4 egg whites

1

cup or (200g) granulated sugar

4

sticks butter or (1 lb) or (450g) unsalted butter,

at room temperature, cut into cubes

1/4

teaspoon

cream of tartar if using meringue powder

2

teaspoons

vanilla extract
For Illusion
3

bamboo skewers or similar stick,

I taped 3 bamboo skewers together

1/4

cup

chocolate chips melted

1

and 1/2 cups m&ms + 1 small empty m&m pack
Instructions
Preheat oven to 350 Degrees Fahrenheit. Grease and line two 9 inch cake pan with parchment paper.

Sift flour + baking powder + baking soda + salt and keep aside. (This step is important to get an airy texture)

Cream butter for 2-3 minutes on medium high speed. To this add oil + sugar and beat at the same speed for additional 2-3 minutes, scraping off the sides till the mixture is light and fluffy.

Add eggs one by one, scraping off the sides. In the end, add vanilla extract and beat well till the mixture incorporates well but do not overbeat.

To this add flour in three batches alternating with milk, beginning and ending with flour. (Again do not overbeat, but mix well till everything incorporates well.

Pour into 2 greased 9 inch cake pans.

Mix cocoa + milk into a paste without any lumps. Pour into a circular motion over the cake, Take a spoon or a fork and create swirls on the cake.

Bake for about 30-35 minutes till the top is golden brown and till a skewer inserted in the center of the cake comes out clean.

Frost the cake once the cake is completely cooled.
Swiss Meringue Buttercream Frosting:
(With MERINGUE POWDER) In a mixing bowl, mix meringue powder with 3 tablespoons warm water and cream of tartar and start beating with a whisk attachment on high. Tiny bubbles will form. Add sugar and keep beating on high till the sugar melts and the meringue retains its shape. (When you stop the mixer, the meringue shouldn't cave in.)

(With EGG WHITES) In a mixing bowl, add egg whites and sugar. Keep this over a bowl of simmering water (the bowl should not touch the water) and whisk it continuously till the mixture is warm to touch, the sugar melts and the temperature of the egg mixture reads 160 degrees Fahrenheit. Place the bowl on the stand mixer and with a whisk attachment whisk till the mixture is glossy and stiff peak forms. Once the bowl is cold to touch, start adding butter.

Add 1 stick of butter at a time, beating on medium. Add vanilla and beat well till the mixture is very light and creamy. Once you finish adding the butter, change the whisk to a paddle attachment and beat on low till the frosting is really light and to get rid of the air bubbles.
Recipe Notes
You can bake this in a single 9*3 inch cake pan, and cut it into two for a layer cake. Baking time will be around 50-60 minutes.
For the chocolate cake, I used Hershey's chocolate cake recipe.
After adding the butter, it can look curdled, but keep beating and within sometime the frosting starts looking light.
This frosting can take quite time if using a hand beater. But if using a stand mixer, after every step, you can walk away and keep an eye in between.
If you are worried about eggs not getting cooked well, use meringue powder.
1 teaspoon meringue powder = 1 egg white
The frosting can be stored in an airtight container in the refrigerator for 2-3 days or unto a month in the freezer. Before using, let the frosting come to room temperature and beat slowly.